Tesla may start accepting Bitcoin again – Crypto weekly update
This week, the total market capitalization exceeded 2.13 trillion EUR. Decrease at the 7-day interval is 6.16 %. Bitcoin decreased by 9.1 % during the week to a current value of over than 51 000 EUR. Bitcoin dominance is 45,1 %.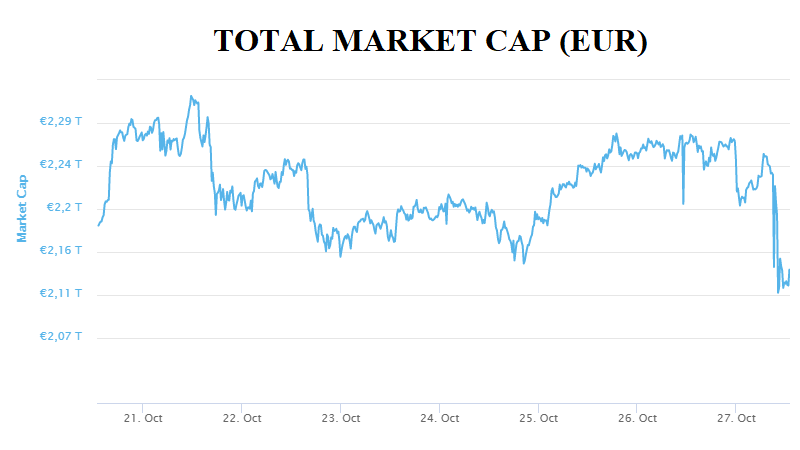 Tesla may start accepting bitcoin again
Tesla, the world's leading electric car manufacturer – headed by visionary Elon Musk – has hinted that it may resume accepting Bitcoin and crypto payments for its vehicles, according to the released news.
In its quarterly filing with the U.S. Securities and Exchange Commission (SEC), Tesla stated that "may in the future restart the practice of transacting in cryptocurrencies ("digital assets") for our products and services" suggesting that Tesla is working to restore support for crypto payments.
Tesla previously accepted Bitcoin as payment for electric vehicle purchases between January and March of this year. This move was one of the first and most important steps in the broader mainstream adoption of bitcoin, with the firm also investing $1.5 billion (€1.3 billion) worth of its treasury into BTC during the first quarter of 2021.
However, support for Bitcoin was quickly shelved after the firm faced criticism for supporting BTC despite perceptions that proof-of-work mining has a negative impact on the environment.
In its Q3 finance report, Tesla reported having to take a $51 million (€43.9 million) impairment charge to account for its existing BTC holdings.
Digital asset accounting rules state that if the price of an asset falls during the period, the company must report it as an impairment. However, if the price increases, it is not reported as a gain on the balance sheet. Bitcoin prices ranged from $30K to $52.7K during the quarter but ended at $41.5K.
Following Tesla's big move into Bitcoin earlier this year, the company sold 10% of its holdings in Q2, which boosted that quarter's earnings by $272 million.
According to Bitcointreasuries, Tesla currently holds around 43,200 BTC worth an estimated $2.7 billion at current prices. Even after selling 10% of its stash, the company has made almost $1.3 billion (€1.12 billion) in unrealized profit from that investment. Source
Record capital inflows from institutions
Cryptocurrency products and funds had record inflows last week to the tune of $1.5 billion (€1.3 billion). Cumulatively, this is the 10th week of positive capital inflows in a row, thanks in large part to the growing adoption of bitcoin and huge optimism in the cryptocurrency market.
Inflows so far this year hit $8 billion (€6.9 billion), far exceeding the record set for the whole of 2020 of $6.7 billion (€5.78 billion), the data showed as of the week ended Oct. 22.
The bulk of inflows for the sixth straight week went to Bitcoin, with $1.45 billion, data showed. Inflows to the world's largest cryptocurrency year-to-date amounted to $6.1 billion.
New Bitcoin Futures ETFs, launched last Tuesday on the New York NYSE, played an important role in last week's capital inflows. According to a report by CoinShares, up to $1.236 billion was invested into Bitcoin through the ProShares ETF Fund, significantly affecting the final balance sheet.
In addition to Bitcoin, funds investing in Solana ($8.1 million – €6.98 million) and Cardano ($5.3 million – €4.57 million) also saw positive capital inflows. Source
Valkyrie Launches Second Bitcoin ETF Fund
Digital asset manager Valkyrie has announced the launch of its Bitcoin futures ETF following approval from the SEC.
Valkyrie is launching the second Bitcoin futures exchange-traded fund (ETF) in the U.S. Valkyrie's Bitcoin Strategy ETF is set to trade on the Nasdaq under the ticker BTF and will track the value of Chicago Mercantile Exchange (CME) Bitcoin futures.
Futures contracts are financial contracts the value of which depends on, or is derived from, the underlying reference asset. In the case of Bitcoin futures, the underlying reference asset is Bitcoin.
The approval of Bitcoin ETFs only underlines the current positive trend, in which Bitcoin is increasingly becoming a "standard and globally accepted asset". Source
Walmart will allow customers to buy cryptocurrencies
U.S. company Walmart has started a pilot program in which shoppers can buy Bitcoin at Coinstar kiosks in some of its U.S. stores.
The test with Coinstar, which is known for the machines that let customers exchange U.S. coins for paper bills or gift cards, began earlier this month.
The pilot program will include 200 coinstar kiosks available in Walmart stores and allow customers to buy bitcoin through them. The project is part of a broader initiative by Coinstar, which has teamed up with Coinme to offer cash-for-exchange services for cryptocurrencies at more than 20,000 locations in the US.
The US cryptocurrency ATM industry is expanding at a rapid pace, even under the covid-19 pandemic. More than 48,000 bitcoin ATMs are currently available in the US, according to the howmanybitcoinatms. Source
Mastercard partners with Bakkt
Cryptocurrency exchange Bakkt stock soared on Monday, after announcing a partnership with Mastercard (MA) to offer crypto debit and credit cards, making it easier for consumers to pay using digital coins.
The companies said the partnership will make it easier for banks, financial-technology firms and merchants to offer and accept crypto payments. Banks and other financial institutions that issue cards through Mastercard will be able to issue cryptocurrency debit or credit cards that let people make payments and earn rewards in bitcoin.
Mastercard said back in February that it was preparing to support cryptocurrencies in their payment network. Mastercard itself said at the time that more and more people were using credit and debit cards to buy crypto assets. Source
Curiosity : 1000 addresses own up to 3 million BTC
The latest survey by the National Bureau of Economic Research– a U.S. private nonprofit research organization – found that the 10,000 largest investors own about a third of the Bitcoin that has been mined.
In addition, the survey also pointed out that the top 1,000 individual investors collectively own a whopping 3 million BTC – that's equivalent to a seventh of Bitcoin's total supply — including the coins that are yet to be discovered, and those that have been lost forever.
In this case, it should be noted that there are limitations to the data, because for some addresses it is difficult to determine whether the address belongs to a person or a corporation. This means that some addresses can be represented by exchanges and not by individual investors. Source
Start investing safely in cryptocurrencies now.
Odporúčame
More articles

with Fumbi