The European Investment Bank implements a blockchain – Crypto weekly update
This week, the total market capitalization exceeded 1.69 trillion EUR. Decrease at the 7-day interval is 0.2 %. Bitcoin decreased by 2.3 % during the week to a current value of over than 43 000 EUR. Bitcoin dominance is 49.5 %.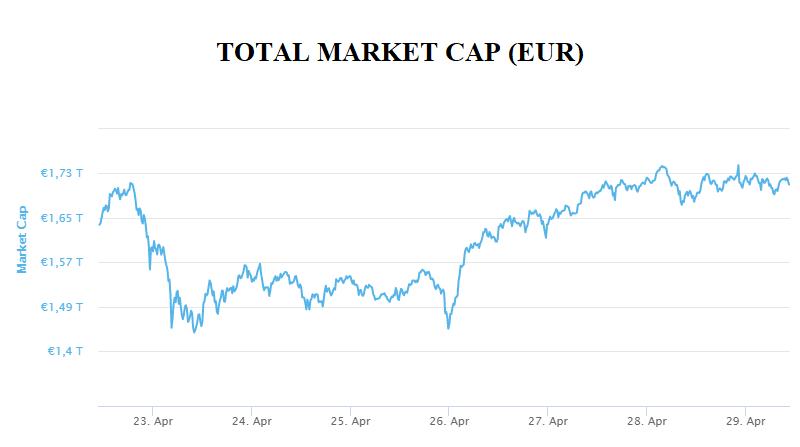 The European Investment Bank has announced the implementation of a blockchain
Ether prices skyrocketed to a new all-time high on Wednesday on the back of positive news from the European Investment Bank. Although there are currently several factors pushing up the price of Ethereum, several agencies attribute it to this news.
The European Investment Bank is launching the "digital bonds" through the Ethereum blockchain. The EIB is issuing a two-year € 100 million ($120.8 million) digital bond, with the sale to be led by Goldman Sachs, Banco Santander and Société Générale, according to analysts at Bloomberg.
Société Générale has announced that its subsidiary, Société Générale SFH, had issued a € 100 million bond as a "security token" on the public Ethereum blockchain. It was awarded the top triple-A rating by Moody's and Fitch.
The amount of Ethereum sitting on exchanges continues to drop lower and has been the lowest in the past year. With less supply on exchange available, there's less likely a chance of a major sell-off. Source
Deutsche Telekom invests in the public blockchain CELO
German giant Deutsche Telekom, one of the largest telecommunications service providers in Europe, has published a report stating that the company has decided to invest in a decentralized financial economy. Deutsche Telekom to be the first telecommunications company to join the CELO network.
The company purchased native tokens of the decentralized CELO mobile platform through its strategic investment fund. Deutsche Telekom has joined the global Celo Alliance for Prosperity program – the CELO ecosystem, which has more than 130 members, including non-profit organizations, merchants, payment processors and other blockchain companies. Source
Japanese giant Nexon has joined "institutional investors group"
The prominent and popular online games and virtual world creator, Nexon, has officially joined the group of publicly traded companies that make a significant investment into Bitcoin. The company has become a part of a group of " institutional investors", which includes for example Tesla, Microstrategy and Square.
On Wednesday, April 28, Nexon announced it had purchased 1,717 BTC for roughly $100 million (€ 83 million) at an average price of $58,226 each after fees (€48,242). The firm noted the investment represents less than 2% of its "total cash and cash equivalents on hand. The company's CEO cited "protecting shareholder value and maintaining the purchasing power of money" as the main reason for investing in Bitcoin. Source
JP Morgan to let clients invest in Bitcoin fund
The US bank JP Morgan will become another Wall Street bank that will offer its clients cryptocurrency-related services. According to information from Coindesk news portal, JP Morgan plans to set up its own Bitcoin Fund this summer in cooperation with NYDIG, which will provide JP Morgan help with custody services related to Bitcoin management.
Under US regulations, banks cannot currently hold Bitcoins directly. NYDIG currently provides custody services to rival bank Morgan Stanley, which launched its own Bitcoin Fund in April. This fund will allegedly be available primarily for the bank's private clients. Source
Tesla sold a portion of its Bitcoins
Tesla Motors sold a portion of its Bitcoins, which was bought in February this year for a total of $ 1.5 billion ( € 1,2 billion). Tesla announced that they sold approximately 10 % of its Bitcoins holdings, generating net proceeds of $272 million (€ 225,36 million). Tesla noted a $101 million (€ 83,36 million) "positive impact" as a result of its Bitcoin sale.
Following the release of this news, a wave of criticism has started over Elon Musk. Musk disproved this criticism, saying he did not sell off any of his personal Bitcoins. Bitcoins were sold only by Tesla, in order to point out the liquidity of Bitcoin and also that Bitcoin can serve as a functional and effective alternative to holding cash on the balance sheet. Source
Ethereum EIP-1559 date released
The long-awaited update in the Ethereum network has finally reached a final date. A hard fork called London, which will also include EIP-1559, which will bring the burning of fees in the Ethereum network, should take place on July 14, 2021 according to information from the developers.
The most significant changes in EIP-1559:
Standardization of fees in the Ethereum network- flexible fees depended on actual load in the network.
Implementation of a "tip" for miners in the network, which will affect sequence of transactions in the blockchain
Burning fees in the Ethereum network – implementation of the deflationary character of Ethereum.
Ethereum developer Tim Beiko informed about this news on Twitter. Source
Start investing safely in cryptocurrencies now.
Odporúčame
More articles

with Fumbi