The Fed Raises the Interest Rate by Half a Percentage Point
The Federal Reserve System (Fed), led by Jerome Powell, announced on Wednesday an interest rate increase by 50 basis points (0.5 percentage points) to a range of 0.75% -1% to beat the worst inflation in the United States in 40 years.

The 50 basis point interest rate increase represents the second consecutive increase and the highest one-off rate increase in 22 years. However, the Fed is expected to make a total of six to seven interest rate increases this year.
The Fed also stressed in its press release that from 1 June, it would start reducing the number of assets held on its balance sheet, currently worth $9 trillion.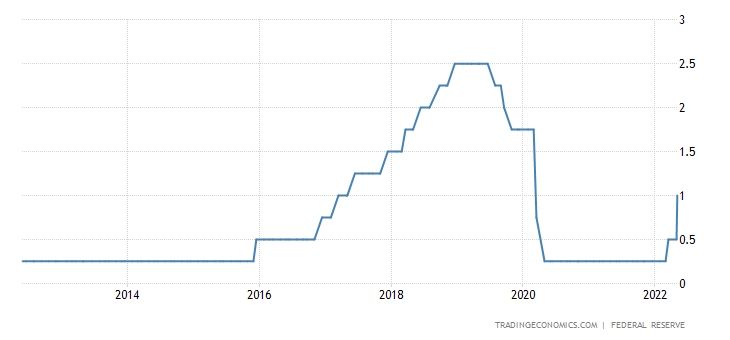 "The invasion of Ukraine by Russia is causing tremendous human and economic hardship," states the end of the press release from the two-day Fed meeting. "The invasion and related events are creating additional upward pressure on inflation and are likely to weigh on economic activity. In addition, COVID-related lockdowns in China are likely to exacerbate supply chain disruptions."
The federal interest rate increase essentially makes money more expensive. Loans and mortgages in banks are more expensive and less affordable. On the one hand, it helps to slow inflation, but on the other hand, it weakens consumer demand and slows down economic growth.
However, the Fed's leadership must proceed slowly and carefully when pursuing a restrictive monetary policy. Otherwise, rates could rise too fast, forcing companies to lay off people or push the country into recession.
Financial market experts expected this rate to increase, and thus stocks and cryptocurrencies responded to the news in the green. The strongest cryptocurrency, Bitcoin, responded to this news with an almost 2.5% growth, while Ethereum has improved by as much as 3.75% since the news was published.
In the coming months, the Fed is expected to continue its hawkish statements and aggressive policies. It is estimated that the interest rate could reach 3% – 3.25% by the end of the year.
Invest With Fumbi Today
If you are considering investing in cryptocurrencies, Fumbi is here for you. Our algorithm-administered portfolio accurately tracks the growth of the entire cryptocurrency market.
Fumbi is the first of its kind to offer cryptocurrencies to the general public, even at small deposits. Investing in cryptocurrencies through Fumbi is very easy and minimises risks.
You can start with a deposit of just €50.
START INVESTING

Did you come across a term you didn't understand? Don't worry. All essential terms regarding cryptocurrencies are in our Fumbi dictionary.
Odporúčame
More articles

with Fumbi