The number of bitcoins on exchanges is drying up – Crypto weekly update
This week, the total market capitalization exceeded 1.94 trillion EUR. Decrease at the 7-day interval is 2.51 %. Bitcoin increased by 4.54 % during the week to a current value of over than 41,400 EUR. Bitcoin dominance is 40.3 %.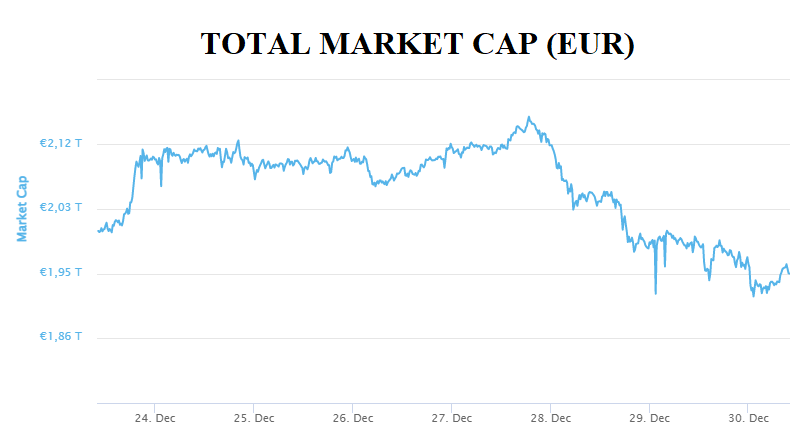 The number of bitcoins on exchanges is drying up
Bitcoin outflow from exchanges continues. In glad tidings for an orange Christmas, a new analysis from Cryptorank was published on Christmas Eve, revealing that only 6.3% of total Bitcoin supply is left on exchange wallets.
The decreasing supply is nothing new, trending down since the Bitcoin halving in 2020 when the BTC block reward was cut in two. This means that fewer and fewer bitcoins are gradually entering circulation over the years, increasing their rarity and limitedness. If the number of bitcoins on the exchanges falls, it usually means that investors are buying bitcoins and move them to their own wallets – so they secured them in their own custody.
Exchange wallets accounted for 9.5% of the BTC supply in October 2020, just before the 2020 Christmas all-time highs, and 7.3% in July this year. At the end of the calendar year, there was a further significant decrease, with only around 1.3 million bitcoins (6.3 % of supply) currently available on exchange wallets.
Interestingly, Coinbase's BTC wallet dominance is also slipping. The American exchange used to custody more BTC than all other exchanges combined. Its dominance has slipped from 50.52% to 40.65% over the past year. Coinbase still holds more than 575,000 bitcoins on its wallet, while its biggest competitors Binance and Bitfinex hold 329,000 and 193,000 bitcoins, respectively. Source
Ethereum continues fee burning
The Ethereum network and its native Ether token have had one of the most successful years in their history. Ether's price has risen by more than 450 % in the past 12 months and is currently trading for more than $3,800 (€3,350). In addition, on August 5, the Ethereum network implemented an important upgrade called "London Hard Fork", which brought with it a deflination policy of burning Ethers
Around four months ago, Ethereum implemented the London upgrade which added a number of new rule-sets to the chain. The most transformative included EIP-1559, an Ethereum rule-set improvement that created a new fee rate scheme allowing the network to burn a portion of ether.
As of today, December 30, 2021, 1 292 057 ETH has been destroyed by the burn process, which equates to close to $5 billion in USD (€4.42 billion) value using today's ETH/USD exchange rate. The amount of value burned to-date is 30 % higher than what had been burned on November 24, when the burn rate crossed 1 million ether.
The biggest burner has been the non-fungible token (NFT) marketplace Opensea as it has burned 134,126 ether worth $498 million (€440 million) across 9.5 million transactions. Traditional ether transfers by network participants burned 122,365 ether since August 5, which equates to $483 million using today's ETH exchange rates. The decentralized exchange Uniswap v2 has burned 112,159 ether worth $457 million (€402.7 million). Source
2021 in numbers
The cryptocurrency market is inherently dependent on numbers and mathematics. Not a day passes by that you do not get bombarded with gains, losses, yields or some kind of other data. Therefore, in the latest edition of our crypto weekly update, we decided to summarise five most interesting numbers, which significantly affected the cryptocurrency market in 2021.
68 740 USD – Despite opening 2021 at $30,000, bitcoin more than double its valuation in 2021. The price of bitcoin reached a new all-time high of $68,780 on November 10. Few expected such a price increase!
260,06 USD – If we take a look at alternative L1 blockchains, the biggest surprise of 2021 was for sure Solana, dubbed as the "fastest blockchain in the world". The cryptocurrency's token has risen more than 11,000% year-to-date and is currently trading at $180. But, Solana reached its all-time high on November 7, when its price skyrocketed and SOL was traded for more than 260 USD.
19 – Yes, many of you know this well. Bitcoin and China have a curious like from romantic movies. China repeatedly seems to "break up" with Bitcoin, but can never let go completely. And even though markets react in a knee-jerk fashion with a short-term sell-off every time, they just as reliably bounce back and surge after every "China Bitcoin ban." According to Coinmarketcap count, China has now "banned Bitcoin" a whopping 19 times in total. Four of these "bans" occurred in 2021, with the most significant being the crackdown on Chinese crypto mining. Another one followed in the fall when China declared Bitcoin transactions illegal.
7.9.2021 – A date that will forever be written into the history of cryptocurrencies. El Salvador became the first country to declare the world's biggest cryptocurrency legal tender after its President Nayib Bukele announced such plans in May at a Bitcoin conference in Miami. The Latin American country has since become a darling of Bitcoin investors on Twitter, even though its own population seems far less convinced of the policy's viability.
373,8 GWEI – In 2021, Ethereum also recorded one unpopular record. In the second half of February, Ethereum recorded the highest fee of this year at 373.8 GWEI. However, the historical record was not surpassed in this year, because as on 1 September 2020, the average gas fee was recorded at 408.97 GWEI. Source
Visa continues crypto expansion
Credit and debit card giant Visa continues to expand in the cryptocurrency sector and is entering into various new partnerships with companies in the area.
Visa's head of crypto Cuy Sheffield tells NDTV in an interview that the world's largest payment processor has more than doubled the number of its crypto partners in the past 18 months.
"Over the last few years, we've also seen our clients' outlook on crypto evolve, from skepticism to awareness, to an understanding that crypto will likely impact their existing business in some way," said Sheffield.
To date, Visa has joined forces with over 60 crypto platforms, including industry giants FTX, BlockFi, Crypto.com, Coinbase and Binance, enabling consumers to convert and use digital assets to pay for goods and services with ease. Source
Dorsey and Musk criticize Web 3.0
Two of the biggest names in crypto —Tesla CEO Elon Musk and Square CEO Jack Dorsey — took to Twitter on Monday night to fire shots at Web3 and the powerful venture capital firm that has done most to promote it.
It all started when Dorsey replied to a tweet from the rapper Cardi B, who had asked if crypto might replace the dollar. Dorsey replied "Bitcoin will. Bitcoin, not "crypto."
Few hours later, Dorsey yed at the criticism of Web3, which he said had become just a "fashion word" that its evangelists use to describe a new era of the Internet that will replace powerful tech companies with a decentralized system of blockchains.
The primary proponent of the vision has been VC firm Andreessen Horowitz (a16z) and its allies, leading Dorsey to tweet: " You don't own web3. The VCs and their LPs do. It will never escape their incentives. It's ultimately a centralized entity with a different label."
Elon Musk, who posted a scathing tweet asking if "someone has already seen Web3 because I can't find him," also joined the discussion after a while. Musk subsequently suggested that terms such as Metaverse and Web 3.0 were just marketing "buzz word" in his view.
Elon Musk thinks the future doesn't belong to virtual reality with "helmets on his head". He sees a real step forward in the solutions that his company Neuralink or some similar project brings, focused on chips that are implemented directly into the human brain. Source
Curiosity : Bitcoin rolled over Twitter
The intense bull run Bitcoin experienced this year pushed more than just its price up. As the world's largest cryptocurrency inched closer to its all-time high, the eyes of the entire world seemed pointed at Bitcoin.
According to data from analytics company Visibrain, there were 101 million tweets containing the word "bitcoin" in 2021. This is an increase of up to 350 % compared to the tweets in 2020.
The sharp increase in the amount of social media attention Bitcoin has gotten over the past year could be explained by the increase in the number of people becoming aware of crypto in general. However, the huge movements in the market could also be a major factor contributing to this. Every month this year, the crypto industry was hit by major news that swayed Bitcoin's price significantly. Source
Start investing safely in cryptocurrencies now.
Odporúčame
More articles

with Fumbi