Twitter building dedicated crypto team – Crypto weekly update
This week, the total market capitalization exceeded 2.29 trillion EUR. Decrease at the 7-day interval is 7.28 %. Bitcoin increased by 10 % during the week to a current value of over than 52 500 EUR. Bitcoin dominance is 43.2 %.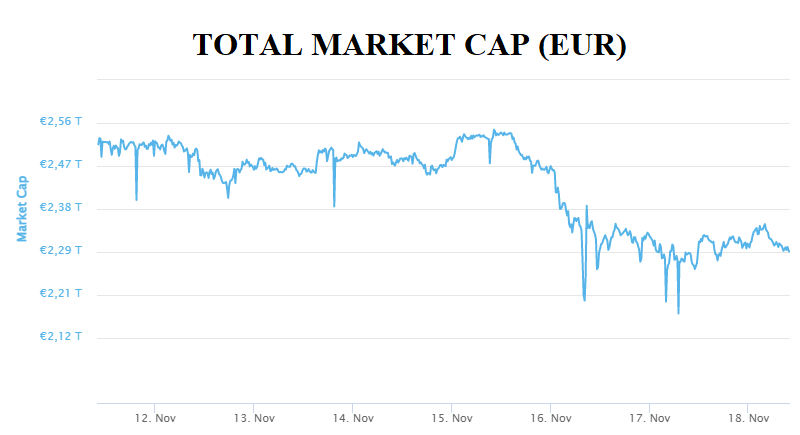 Twitter is building a crypto team
Social network Twitter, led by Jack Dorsey, a well-known bitcoin maximalist and a big fan of cryptocurrencies, is creating its own dedicated crypto team focused on developing decentralized applications.
The new team, dubbed "Twitter Crypto" is set to be led by Tess Rinearson, who has been tasked with setting the "strategy for the future of crypto at (and on) Twitter."
I'm thrilled to share that I've joined Twitter, to lead a new team focused on crypto, blockchains, and other decentralized technologies—including and going beyond cryptocurrencies.," Rinearson tweeted.
The whole idea of creating a dedicated Twitter Crypto team is to decentralize social media – with Twitter reportedly allowing content creators on Twitter to earn cryptocurrencies.
Twitter is officially launching a phase of exploring ways to incorporate decentralized technologies into corporate products and infrastructure. The newly created team is expected to play an important role in this research, as Dorsey himself has called it " center of excellence for all things blockchain and Web 3." Source
Market in correction
The cryptocurrency market entered the correction phase on Tuesday morning after the market suffered capital outflows totalling more than $200 billion (€176.4 billion) within a few hours. The correction on cryptocurrencies comes just a day after an important Taproot upgrade was activated on the Bitcoin network.
The king of crypto has retreated 12.7% from its Nov. 10 all-time high of a touch over $68,789 (€60,694). Despite this latest loss, BTC has still more than doubled in price since the beginning of the year when it was trading at around $29,000 (€25,587). According to Tradingview, there is support at the 50-day moving average which is around the $58,800 price zone.
Corrections also impacted cryptocurrency derivatives, where more than $805 million (€710 million) has been liquidated in the last 24 hours.
Pricing models such as Stock-to-Flow are still predicting larger gains for Bitcoin before the end of this year with a target price of $135,000 (€120,000) painted.
Altcoins were also affected by the correction. On Tuesday, the price of Ethereum, the second-largest cryptocurrency, fell more than 12 % to a local low of $4,103 (€3,620). Ethereum fell by more than 13.5% over the week from it's all-time high from November 10. Solana, Cardano and Polkadot also fell heavily and their prices slumped between 10% and 16% on Tuesday.
Financial markets never grow straightforwardly "to the moon" and significant corrections appear on the market from time to time. However, these price corrections can be considered an important 'reset' in the market, with the market having a long-term tendency to return to the average growth trend. Source
SEC rejects VanEck ETF
The Securities and Exchange Commission (SEC) announced Friday it rejected a bitcoin exchange-traded fund run by VanEck that would have directly tracked the digital currency's price moves.
The application was filed in March by the Cboe BZX Exchange, which wanted the SEC to make a rule change allowing it to list the VanEck bitcoin fund. The SEC said the Cboe had not done enough to demonstrate it could prevent fraudulent trading to protect investors.
The SEC's rejection of the VanEck spot ETF is not so much a surprise. Several companies, including VanEck, have been vying to release the first U.S. bitcoin ETF for almost 10 years but the SEC has been slow to embrace one, citing concerns about the lack of regulation and the potential for fraud and manipulation in the bitcoin market.
The rejection comes weeks after the SEC greenlit the first futures-based bitcoin ETFs: the ProShares Bitcoin Strategy ETF, which began trading Oct. 19 and saw a 4% pop on day one.
Many investors think these futures-based products aren't as favorable as an ETF tracking bitcoin directly would be, but some see it as an important stepping stone to one down the road. However, it could be a very long road. Source
AMC accepts cryptocurrencies
AMC Entertainment Holdings, the largest theater chain worldwide, has launched online crypto payments. AMC theaters will now accept payments in four different cryptocurrencies.
Adam Aron, CEO of the theater chain AMC, has announced on Twitter that the theater company now officially accepts cryptocurrency. This means that going forward, customers can use four cryptocurrencies—Bitcoin (BTC), Litecoin (LTC), Ethereum (ETH), and Bitcoin Cash (BCH)—as a means of payment while booking movie tickets online.
With one phrase in his tweet, "Dogecoin Next," Aron appeared to confirm that the company plans to accept Dogecoin (DOGE) soon. This move is not as surprising, given that AMC began allowing Dogecoin as a payment option for gift cards in October.
Founded in 1920, AMC is the largest movie theater company in the world, with over 11,000 screens and about 1,000 venues globally. Its decision to support crypto payments has been hailed as a huge step for crypto adoption. Source
India with first crypto ETF
India's securities regulator, Securities and Exchange Board of India (SEBI), has approved India's first ETFs aimed at investing in cryptocurrency and blockchain companies.
The fund, called "CoinShares Global Blockchain ETF Fund of Fund of Fund" will be open to Indian investors between Nov. 24 and Dec. 8 this year, according to literature shared by Invesco Asset Management India.
CoinShares and Invesco Asset Management India are launching the vehicle, which relies on an index of 50 publicly traded companies with exposure to crypto assets. The fund will provide investors access with exposure to blockchain technology companies that are not typically available for trading in India. The fund will include the world's best-known companies involved in the crypto asset ecosystem. That includes everything from Galaxy Digital to Square to Tesla.
"Due to the fact that blockchain technology is still in its infancy, the potential for transforming the global economy is enormous. As with the internet, blockchain provides an opportunity for investors who can identify and capitalize on this untapped potential." Invesco said in its report.
Recently, there have been more and more ETFs being listed, indicating some amount of market maturity and acceptance from regulators. We firmly believe that this trend will continue. Source
Curiosity: Bought the dip
Corrections in the cryptocurrency market are generally seen as one of the biggest opportunities to buy cryptocurrencies and expand your investment portfolio. One of Bitcoin's biggest whales took advantage of Tuesday's market crash to buy more than 200 bitcoins at an average price of $62,000 (€54,700).
The entity has been quite active in response to the cryptocurrency's price movements. The latest such example came earlier this month when they sold 1,500 bitcoins at $67,500 (€59,560). Last Friday, the same whale bought 1,123 bitcoins at $64,200 (€56,600). This whale actively responded to the market crash on Tuesday, buying another 207 bitcoins. As of now, the whale has 108,528 bitcoins, which makes an unrealized gain of $4.7 billion (€4.14 billion). Source
With Fumbi, you can also actively respond to a market downturn. Through Fumbi Index Portfolio, you can dynamically respond to market crashes and invest in cryptocurrencies with the highest market potential. If you want to take advantage of the crash in the market value of an individual cryptocurrency, our product Fumbi Custom is the ideal solution for you.
Start investing safely in cryptocurrencies now.
Odporúčame
More articles

with Fumbi