Ukraine tension is escalating – Crypto weekly update
This week, the total market capitalization exceeded 1.45 trillion EUR. Decrease at the 7-day interval is 16.66 %. Bitcoin decreased by 15.17 % during the week to a current value of over than 32,300 EUR. Bitcoin dominance is 42 %.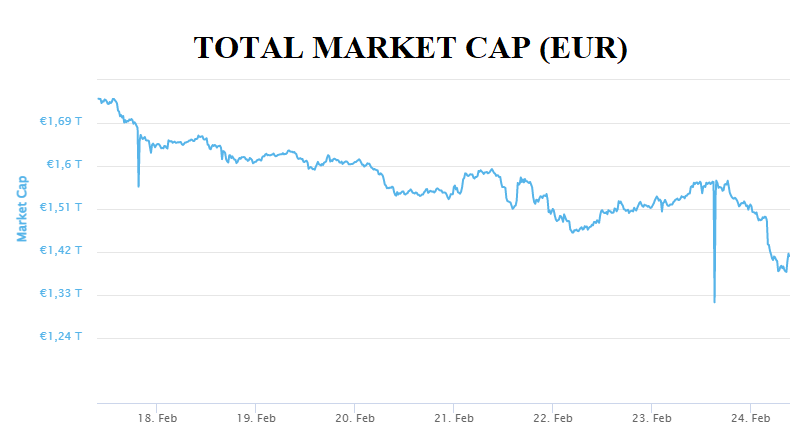 Ukraine tension is escalating
The price of the most popular cryptocurrency, Bitcoin, fell by more than 5% on Monday amid growing tensions in Ukraine.
Russian president Vladimir Putin said in a speech on Monday that Russia had recognized the independence of two separatist republics, Donetsk and Luhansk, raising more fears of full-scale military action.
A few hours later, Russia started to move its troops into the so-called Donetsk People's Republic (DNR) and Luhansk People's Republic (LNR) overnight. This news immediately raised doubts and a number of questions, which caused a decline in the stock market and the cryptocurrency market.
However, russian financial instruments have responded to the current situation. Moscow Exchange (MOEX) equity index tumbled 10.5 % amid the fears of a large-scale military invasion of Ukraine, and the Russian ruble fell to an 18-month low against the U.S. dollar on Tuesday morning. According to The Telegraph, this is the biggest fall for Russian stocks since 2008.
In the current situation, it is necessary to prepare for more volatility in the cryptocurrency market. The European Union, Great Britain and the United States are set to impose heavy sanctions against Russia. These sanctions can further increase global tensions, which can be felt in all financial markets. On the other hand, if the situation in Ukraine were resolved quickly, it would certainly bring a positive mood to the financial markets. Source
HOLDers with diamond hands
The latest analytical data from Glassnode shows that despite the current high price volatility, more than 60% of bitcoins has not left its wallet in a year or more.
Although fear and uncertainty are currently dominating in the market, as the price of bitcoin has fallen by more than 50% from it's all-time high, the most experienced investors know that market volatility is a inherent phenomenon in crypto market. They also know that bitcoin is considered as a long-term investment.
This claim is confirmed by the on-chain data, which revealed that long-term investors are adding to their positions or staying put on their BTC exposure. According to Glassnode's HODL Waves indicator, as of Feb. 18, 60.61% of the BTC supply has not been used in a transaction for a year or more.
Only twice before in Bitcoin's history has the one-year-or-more value reached that level.
As such, the odds are on for an altogether different trend to form for Bitcoin in the mid-term, this potentially defying the broadly gloomy narrative over flagging macro support, rising interest rates and geopolitical tensions.
"Long term HODLers patiently HODLing because they know what's likely coming soon," Philip Swift, analyst at trading suite Decentrader, added about the data. Source
Price falls, but hashrate and difficulty is rising
Despite falling trading volumes and market uncertainty, competition among miners is growing the most. As a result, the Bitcoin network reached a new all-time high in two major network indicators – hashrate and mining difficulty.
On-chain analysis tool CoinWarz indicated on Friday that mining difficulty reached a new high of 27.97 trillion hashes. This is now the second time in three weeks that Bitcoin has hit a new all-time high in terms of difficulty.
Higher difficulty means there is more competition among miners to confirm a block and extract a block reward. As a result, miners have recently begun selling off coins or their company's stock in order to keep their cash reserves intact. Most notably, Marathon Digital Holdings filed on Saturday to sell $750 million worth of company shares.
The hash rate for the network has also hit a new ATH, according to data from Blockchain.com, which indicates a hash rate of 211.9 EH/s. Different measurement tools have recorded different hash rate highs over the last few weeks. YCharts tools displayed a hash rate ATH of 248.11 EH/s on Sunday.
A greater hash rate, however, means greater security for the network. The more hash power the network uses, the more distributed the work is for each transaction that takes place on-chain. Source
Tourism in El Salvador is growing
The adoption of bitcoin as a legal tender in El Salvador has triggered a notable surge not only for its gross domestic product, but also for the local tourism development.
According to Salvadoran Tourism Minister Morena Valdez, the tourism industry in El Salvador has surged more than 30 % since the adoption of the Bitcoin law in September 2021.
In an interview with local news agency El Salvador News on Monday, English Valdez said that the ministry did a poll to compare tourist activities before and after accepting bitcoin. Valdez pointed out that tourism increased significantly in November and December, after the bitcoin adoption.
The minister added that El Salvador's tourism growth has exceeded the government's expectations, reaching 1.4 million visitors instead of 1.1 million tourists.
The news comes shortly after Salvadoran President Nayib Bukele announced that El Salvador's GDP grew 10.3% in 2021. The country's exports, a major driver of economic growth, have also increased by 13 % year-over-year in January 2022. Source
Intel unveils new cryptocurrency mining chip
At this year's International Solid-State Circuits Conference, which is focused on presenting innovations in semiconductor circuits and chip-based systems, Intel revealed the technical details of the first generation blockchain acceleration chip called Bonanza Mine (BMZ1).
BMZ1 is an application-specific integrated circuit (ASIC), which means that it is designed to perform specific tasks – such as bitcoin mining. The new chip should be up to thousand times better at mining per watt of energy than a GPU.
Intel also introduced a new 3,600-Watt mining rig comprising 300 BMZ1 chips. A combination of new chips and a mining rig produces a machine with a system hash rate of 40 terahashes per second (TH/s).
That's not quite as powerful as the 198 TH/s claimed by Bitmain's 5,445-watt liquid-cooled miner, out this summer, but Intel also said that its miner's underlying BMZ1 chips are the cleanest and most powerful on the market.
Several mining companies have shown interest in the new BMZ1 chip, including Jack Dorsey´s company Block, formerly known as Square. Source
Curiosity: Collector sues OpenSea
An NFT collector who inadvertently sold a Bored Ape Yacht Club NFT for $26 due to an OpenSea listing issue has filed a lawsuit asking for $1 million in damages.
Timothy McKimmy has filed the lawsuit against OpenSea citing a software bug. The suit is asking OpenSea to pay $1 million in damages for allegedly failing to ensure the security of the marketplace
On 7 Feb, 2022, NFT Bored Ape #3475 was sold for 0.01 Ethereum, around $26, but worth approximately $200,000 at the time.
However, McKimmy says the sale occurred without his permission and that he did not list the item. Someone took advantage of this mistake, immediately bought the NFT and sold it back to someone else for 98.9 ETH worth $308,445.
The legal complaint filed in federal court in Texas accuses OpenSea of negligence for continuing to operate without fixing a critical error and without any effort to resolve this case. Source
Start investing safely in cryptocurrencies now.
Odporúčame
More articles

with Fumbi