Binance has completed the Binance Coin mainnet swap – Crypto weekly update
Every weekFumbi.network brings you a recap of the most valuable crypto-news from fields of Technology, Legal & Politics, Business, and Media. So stay tuned and buckle up for some good reading.
In the past weeks, the bitcoin price has increased by around 7.3 percent against the U.S. dollar from $5,220 to $5,600, achieving a new 2019 high. While the upside movement of the dominant cryptocurrency is generally considered to be technical, some theorize that the unexpected increase in the volume of the U.S. bitcoin futures market may have triggered the BTC run. www.ccn.com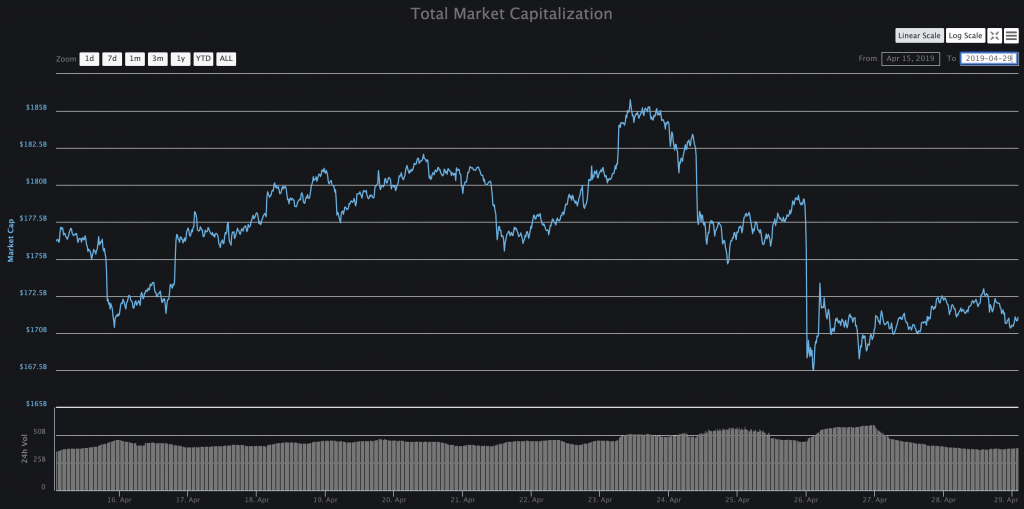 I. Technology
Amazon with Lightning Network? You've likely heard the buzz about a new Chrome extension that will allow people to make purchases on Amazon using the Lightning Network, Moon. The buzz shouldn't confuse you, hopefully: Amazon isn't accepting any form of bitcoin, and they're not integrating the Lightning Network. The extension does some ninja work in the background to get your crypto into fiat and then gives that to Amazon or other e-commerce sites. Amazon, in particular, has long been a target of crypto-payment projects. A company called Purse.io has for years allowed people to turn their Prime memberships and Amazon Gift Cards into crypto – at a steep mark-up. Crypto users can spend money on Purse, selecting a discount, and then users on the other side can accept the offers. You can get up to 30% off this way, which is the incentive to spend crypto. There's no similar incentive with apps like Moon, which is part of why they won't be the "killer app" that leads to mass adoption. Former Bitcoin Core developer Jeff Garzik isn't very impressed with the idea, saying that it probably won't get Grandpa using crypto.
Adoption is the Holy Grail of cryptocurrency expansion, and it's one of the hardest nuts to crack. As we reported earlier today, people have had their crypto stolen without even doing anything wrong – an attacker has been able to guess private keys for years and drain it. The advent of quantum computing might push the limits of such attacks to the point of destabilizing unprepared blockchains.
www.ccn.com
Binance has completed the Binance Coin mainnet swap, the exchange announced on Tuesday. $BNB has now moved from the Ethereum blockchain to the Binance Chain. According to the statement of Binance, deposits and withdrawals are now open. For investors and traders its important to note that the $BNB deposit address has changed. Holders of Binance Coin can still send their ERC20 tokens to the new deposit address; Binance will convert it into BEP2 tokens automatically. To let users convert their tokens, a batch of 5 million $BNB has been stored into a Binance address. Following the conversion to BEP2 tokens, old ERC20 tokens are burned, guaranteeing constant supply across both networks. Trading will have to wait for the first batch of BNB to be converted in order to provide enough liquidity. Binance CEO Changpeng Zhao announced just before the completion of the Mainnet Swap that 5 million $BNB ERC20 tokens are now burned. Following the BNB migration from Ethereum to Binance Chain, more coins will follow. The first one to announce the migration was Mithril, shortly after followed by Atomic Wallet and Red Pulse. www.chepicap.com
II. Legal & Politics
Crypto-Based Transfers Can Cut Remittance Costs in Africa by 90%. Remittances have become a lifeline for many people in Sub-Saharan Africa, but the cost of sending money via banks and money transfer operators remains punitively high. On average, it costs 9.3% (of value transferred) to send the equivalent of $200 to the region, the highest remittance rates anywhere on the planet, according to the new World Bank 2019 report. However, the cost drops dramatically by as much as 90% when money is sent through cryptocurrency-based fintech companies like Bitpesa. Africans working abroad last year sent $46 billion to support families in their home countries. The money is often used to pay for education, buy food and clothes, start a business, build a house and cover daily living costs. Money sent from overseas is a vital tool of survival for many families in Africa's often unstable economies. But too much of the money is being taken in transfer fees by financial companies. According to the World Bank, banks are the most expensive agents for sending money back to Africa at 10.2%, followed by money transfer operators at 7.7% and post offices at 5.5%. This is by far too costly when compared to the Sustainable Development Goals target of cutting financial transfer costs to within 3% of total transaction value by 2030. Some people have now started to put their hopes in bitcoin-backed fiat remittances as a way of cutting fees and improving efficiency and speed during transfers. When American political science graduate Elizabeth Rossiello founded Bitpesa in 2013, the company initially focused on facilitating bitcoin-supported cash transfers between citizens of the U.K. and Kenya. However, Bitpesa now has operations in eight African countries: the Democratic Republic of the Congo, Ghana, Kenya, Morocco, Nigeria, Senegal, Tanzania, and Uganda. news.bitcoin.com
BlockShow, an international blockchain event powered by Cointelegraph, has started a campaign to raise cryptocurrency for the Notre Dame cathedral reconstruction. The news was announced on BlockShow's official Twitter account on April 16. In the tweet, the team behind BlockShow revealed that it has initiated a fundraising campaign for the Notre Dame reconstruction following the devastating fire that engulfed the cathedral yesterday, April 15. The BlockShow team posted two digital currency wallet addresses where everyone interested can transfer donations in both bitcoin (BTC) and ethereum (ETH), as well as a link to the Foundations Du Patrimoine, which is raising donations in fiat currencies. National Public Radio (NPR) has reported about several other international campaigns raising funds for the cathedral rebuilding, including GoFundMe and La Fondation Avenir du Patrimoine à Paris. Per NPR, hundreds of millions of dollars have already been contributed by some of France's wealthiest names, including the Bettencourt Meyers family, Bernard Arnault and François Pinault. News about the Notre Dame fire has drawn the attention of dozens of the world's most prominent individuals. Former president of the United States Barack Obama tweeted: "Notre Dame is one of the world's great treasures, and we're thinking of the people of France in your time of grief. It's in our nature to mourn when we see history lost — but it's also in our nature to rebuild for tomorrow, as strong as we can." President of the European Council Donald Tusk said: "I'd like to say words of comfort and solidarity with the French nation, also as a citizen of Gdańsk, 90% destroyed and burnt, later rebuilt. You will also rebuild your cathedral! From Strasbourg, French capital of the EU, I call on all 28 States to take part in this task." Cryptocurrencies and blockchain have been gradually entering the charity sector, purportedly providing more transparency and trust to the industry. Recently, U.S. crypto payment processor BitPay and the non-profit and charitable organization that operates Wikipedia, the Wikimedia Foundation, partnered to accept crypto donations. Last December, a Dublin-headquartered startup dubbed AID:Tech teamed up with the Irish Red Cross to use blockchain technology in a new app that improves transparency for charitable donations. cointelegraph.com
Russia Prepares to Test Cryptocurrencies in Four of Its Regions. The Russian Federation, which is yet to regulate digital assets, is now planning to allow four of its regions to test innovations that are not covered by its current legislation. A bill drafted by the Economy ministry envisages the establishment of regulatory sandboxes there. The special economic zones will allow companies, entrepreneurs and authorities to experiment with cryptocurrencies without breaking the federal law. The draft has been designed to facilitate the development of neuro- and quantum technologies, artificial intelligence, robotics, virtual and augmented reality as well as crypto and blockchain technologies. Companies are often unable to introduce these innovations to the market due to the absence of a relevant legal framework governing their implementation. The plan is to launch projects in all of these fields within regulatory sandboxes that will be created in the capital Moscow and the regions of Perm Krai, Kaluga Oblast, and Kaliningrad Oblast, Izvestia reported quoting Savva Shipov, Russia's deputy minister of economic development. Shipov told the business daily that the main goal is to stimulate innovations with regulations that will be more flexible than those that exist on the federal level. news.bitcoin.com
III. Media
Iota Partners With Jaguar Land Rover on Crypto Rewards Program, Price Jumps 20%. United Kingdom car manufacturer Jaguar Land Rover will use blockchain network Iota to reward drivers with cryptocurrency for data reporting, the companies confirmed in a press release on April 29. Part of a plan to gather better information on road conditions and vehicle performance, Jaguar will distribute Iota's Iota tokens to Smart Wallets tied to participating drivers. The drivers will then be able to redeem them for various products including road tolls and even coffee, Jaguar says. "In the future an autonomous car could drive itself to a charging station, recharge and pay, while its owner could choose to participate in the sharing economy — earning rewards from sharing useful data such as warning other cars of traffic jams," Russell Vickers, a software architect at the company, commented in the press release. The partnership with Iota forms part of Jaguar's Destination Zero scheme, which aims to tackle accidents, congestion and emissions within the automotive industry. Iota has jumped almost 20% in the 24 hours to press time on Monday 29th. "Our distributed ledger technology is perfectly suited to enable machine-to-machine payments for smart charging, parking and tolls, in addition to creating opportunities for drivers to earn their own digital currency," Iota's head of partnerships, Holger Köther, added. Last week, Cointelegraph reported on how South Korean car manufacturer Hyundai had opted to use blockchain-related technology to pair its electric vehicles with drivers' smartphones. cointelegraph.com
Bitcoin's Explosive Rally Targets $6,500. By CCN: The bitcoin price could surge to $6,500 soon because it breached a key resistance level of $5,500 last week. That's the assessment of Naeem Aslam, the Chief Market Analyst at ThinkMarkets, a forex and derivatives broker. Indeed, bitcoin has roared to a six-month high this week after flailing for much of 2018. Analyst Naeem Aslam told CCN that there are several factors driving the rally, including optimism that Nasdaq is growing more confident about bitcoin futures. Moreover, he says there's a bullish trend forming with speculative bitcoin shorts that are pushing the price higher. "Technicals are fully supportive and the bulls are pushing the markets higher based on that. It's likely that bitcoin's price may move towards $6,000 or even touch $6,500. We have Nasdaq, which is about to get serious about Bitcoin futures. Not to mention the speculative short positions, which are going to get squeezed out very soon (as per the CFTC data)." Even the crypto bears at CNBC begrudgingly agree that bitcoin could top $6,000 soon. www.ccn.com
Will Belarus Be the First Country With Nuclear-Powered Bitcoin Mining? Cryptocurrency mining has lost some of its profitability during the prolonged bear market of the past year. However, not all investors are short-sighted. Belarus, for example, is not giving up on its intentions to develop the digital economy, of which the crypto space is a part of. Minsk thinks it has enough resources and soon plenty of cheap energy to power new coin minting facilities and make a buck from bitcoin mining. During a recent meeting with representatives of the IT industry, President Alexander Lukashenko reaffirmed his administration's will to protect and promote the country's digital sector and assured there are enough resources to do that. He told the audience at the High Technologies Park (HTP) that Belarus will soon have surplus electrical energy that can be used to power new cryptocurrency mining farms. The head of state was referring to the new Belarusian nuclear power plant (NPP) his country is currently building in Astravyets District of Grodno Region, right next to the border with Lithuania. The new atomic electric station will have two nuclear reactors. The first unit is scheduled to enter operation by the end of the year and the second one will start generating electricity in the summer of 2020. The NPP will have a combined capacity of around 2400 MW. Lukashenko further commented: "We will launch the atomic station and there will be surplus energy. I have left some space where – we'll build farms and we'll be mining and selling those bitcoins. They say if you have bitcoin it's not a problem to sell it, right?" news.bitcoin.com
Samsung Coin? Electronics Giant Secretly Tests Ethereum Blockchain (ERC20) Token:
According to CoindeskKorea, a crypto publication operated by mainstream media outlet Hankyoreh, Samsung Electronics is reportedly developing an Ethereum-based ERC20 token and is currently in the process of creating a mainnet. A source of the publication within Samsung Electronics said that the blockchain task force of the company has already tested several versions of a blockchain protocol on top of Ethereum. "Blockchain task force made several models and are evaluating [them]. There are already several platforms that are functioning after some internal tests," the source told CoindeskKorea. The report comes two months after Samsung Electronics introduced the Samsung Blockchain Wallet, essentially an ERC20 wallet featured on its flagship Galaxy S10. When Samsung first released its crypto wallet in February, some investors were taken aback by the fact that the device currently does not support a bitcoin wallet service and is primarily focused on Ethereum. "Galaxy S10 is built with defense-grade Samsung Knox, as well as a secure storage backed by hardware, which houses your private keys for blockchain-enabled mobile services," the company said. Samsung, the world's largest mobile manufacturer, is now including built-in crypto wallets on its flagship device – the Samsung Galaxy S10. Some also pondered the motive behind Samsung's rush towards integrating a crypto wallet as even smaller smartphone makers with the exception of HTC had not integrated a fully functioning crypto wallet feature. If Samsung has been developing an ERC20 token and a blockchain protocol around it as suggested by local reports, then it is sensible for the company to integrate a cryptocurrency wallet to provide an easy-to-use platform for users. www.ccn.com
Corporate Traveller, the largest travel management firm in the United Kingdom, is now accepting Bitcoin (BTC) for payments, according to a press release on April 15. A newly announced partnership with crypto payments company BitPay will allow Corporate Traveller — which provides business travel management services to SME companies — to accept bitcoins. Andy Hegley, U.K. General Manager at Corporate Traveller said: "We identified an increasing demand from our clients for the option to pay in bitcoin for business travel bookings made by our travel consultants. We chose BitPay to manage our merchant processing because they make it easy and handle the entire process of getting the Bitcoin or Bitcoin Cash from the customer and depositing cash into our account." According to the press release, Corporate Traveller is unconcerned with price volatility in crypto markets, as the bitcoins will be converted directly into British pounds. BitPay purportedly charges a 1% commission to convert the funds, which Corporate Traveller says is cheaper than credit card processing. Other firms and organizations in the tourism and travel industries have begun accepting cryptocurrencies, citing customer demand. In March 2018, the German National Tourist Board announced that it takes bitcoins and other cryptocurrencies as payment for its services. In August of the same year, the state government of the Australian province of Queensland issued a grant to the TravelbyBit digital currency payments platform, which aimed to boost tourism in Central Queensland through selling travel offers with cryptocurrencies. BitPay, for its part, recently reported that it saw over $1 billion in transactions last year. According to a January press release, the firm set a new record in terms of transaction fee revenue, having expanded its services to major customers like Dish Networks, HackerOne, and the State of Ohio. On Jan. 30, BitPay partnered with the Wikimedia Foundation — the non-profit organization that runs Wikipedia — so that it could broaden the number of cryptocurrencies that are acceptable by donation. cointelegraph.com
PayPal Aims to Prevent Crypto Ransomware Attacks With New Patent. Digital payments giant PayPal has won a cybersecurity patent to protect users from crypto ransomware, according to a document from the United States Patent and Trademark Office (USPTO) published on April 16. The system described in the patent, entitled "Techniques for ransomware detection and mitigation," intends to improve the detection of ransomware and prevent it from locking up users' access to their files. PayPal's patent describes ransomware as a malware that may encrypt original data and delete the non-encrypted original version, with the malicious party usually demanding users to pay them in anonymous cryptocurrency in order to decrypt the files. As such, PayPal intends to prevent attackers from taking over users' files by detecting a first copy of the original content of a file and preventing it from being deleted if the modified content has been encrypted. With that, the patent also seeks to detect that ransomware is operating on a computer, which is expected to mitigate or avoid negative effects of the ransomware. Last year, PayPal filed another USPTO patent to increase the speed of crypto payments by using secondary private keys to reduce wait times for transactions between merchants and consumers. Recently, global tech giant IBM filed another blockchain patent to manage data and interactions for self-driving vehicles. cointelegraph.com
IV. Business
Crypto Rocket Lets You Track Over 2,000 Cryptocurrencies. Having access to detailed and real-time market data is a precondition for becoming a successful cryptocurrency trader. Crypto Rocket is a mobile app that aggregates useful information about digital coins including price movements and the latest developments in the space. Crypto Rocket is a free application developed for Android devices that tracks the prices of over 2,000 cryptocurrencies. It pulls market data from multiple digital asset exchanges including major platforms such as Kraken, Coinbase, and Bitfinex, as well as Localbitcoins, which is the leading peer-to-peer exchange. The software can notify users when the price of a particular coin crosses a certain threshold thanks to customizable price alerts. Traders can create a watchlist to filter followed currencies. Interactive historical price charts allow them to examine market trends over different timeframes. The app also offers homescreen widgets that will help you stay informed about market developments concerning the coins you are interested in as well as a Breaking News page. There's also a Details section that facilitates deeper analysis based on highs, lows and total volume. Crypto Rocket comes with a currency converter that can be used to compare the market prices of cryptocurrencies in fiat equivalent. The feature supports dozens of traditional currencies including Indian rupee, Russian ruble, Turkish lira, South African rand, Brazilian real, and Vietnamese dong. news.bitcoin.com
How Crypto Investor Stupidity Helped One Hacker Swipe $7 Million. Years ago, a thief had a simple idea: figure out a way to guess Ethereum private keys and write software to sweep the crypto funds from the blockchain. Guessing the 72-character private key is no small feat – your odds are about 1 in 115 quattuorvigintillion. No, we didn't make that number up. The researchers told Wired that trying to do this without the help of high-powered computers would be like: "[…] Choosing a grain of sand on a beach, and later asking a friend to find that same grain among a 'billion gazillion' beaches." The idea has blossomed into an incredibly successful business model, which capitalizes on malformed private keys and poor wallet development. Wired reports on security researchers who uncovered this phenomenon and even proved the concept by sending funds to one of the wallets they suspected had been swept – within minutes the Ether disappeared to the address they believed was home to all the stolen cryptocurrency. Most standard implementations of Ethereum wallets are immune to this problem. If a private key is generated correctly, it's far less susceptible to guessing than if it is truncated by a character or two or worse, manually chosen by a person. A private key of all 0s or that sums up as 1 is the type of private keys that this sneaky fox is snatching. In case our reader is new to blockchain technology, let's briefly explain the nature of a private key. In private/public key cryptography, which all cryptocurrency is based on, ownership of the private key gives you access to anything associated with the public key – funds received or controlled by a Bitcoin or Ethereum address, for example. Bitcoin wallets are composed of multiple private keys, each corresponding to a public address, while the Ethereum system uses a single "account" architecture. A single private key in Ethereum will control all of that account's Ether as well as its tokens. If someone compromises the private key, they can import the funds and then sweep them to somewhere else. Wired doesn't report which address keeps swiping but says it has gained 45,000 Ether over the years. At the present time, that puts them in the top 400 Ether holders, which Etherscan tracks. So we had a look, and only a few addresses in the range of 44-46,000 have had a ton of transactions.
More info about Fumbi.network
Odporúčame
More articles

with Fumbi