Google enters the NFT space – Crypto weekly update
This week, the total market capitalization exceeded 1.68 trillion EUR. Decrease at the 7-day interval is 9.67 %. Bitcoin decreased by 9.50 % during the week to a current value of over than 37 600 EUR. Bitcoin dominance is 42.1 %.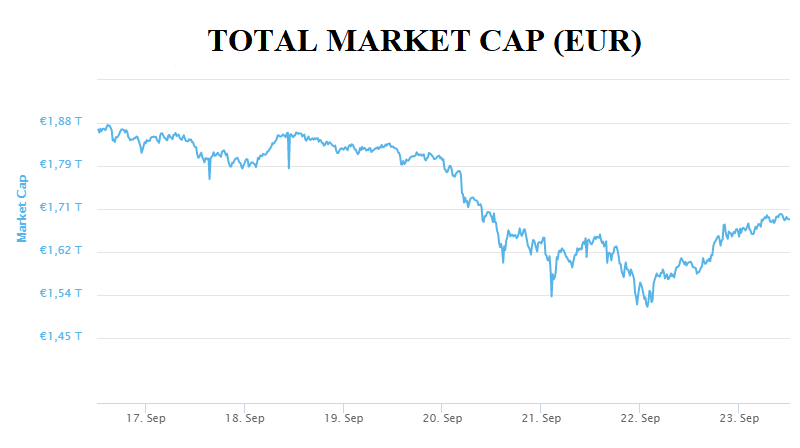 Google and NFT
Google, a technology giant and one of the largest companies in the world, has decided to help support the development of next-generation internet products and services, also known as "web 3.0," including support for NFT projects and marketplaces.
As part of the project, Google has decided to join forces with Canadian blockchain studio Dapper Labs to develop the NFT ecosystem, games and various applications.
As part of the project, Google Cloud will serve as the operator of the Flow blockchain network, the scalable infrastructure that powers an entire ecosystem of NFTs, games and apps. Dapper's Flow blockchain supports some of the most popular NFT collections on the market, including NBA Top Shot and CryptoKitties.
Recognizing the long-term potential of NFTs, NBA legends Michael Jordan and Kevin Durant joined other investors in backing Dapper's $305 million funding round earlier this year. Source
Evergrande and cryptocurrencies
The stock and cryptocurrency markets have been hit by negative news in recent days about the potential collapse of Chinese real estate giant Evergrande, which has struggled to pay off its liabilities. These problems could affect not only Chinese markets, but also global ones.
Evergrande is currently struggling to meet its obligations to suppliers, with the company saying a few days ago that it was unlikely to be able to pay its liabilities on time. Moreover, the sale of real estate is not expected to take off, so capital inflows from the sale of real estates are unlikely to guarantee sufficient liquidity to the company.
In addition to the stock market, the cryptocurrency market reacted negatively to this news. Bitcoin's price has slumped more than 14 % in the past 48 hours, reaching its local low of $39,800.
But leading global analysts believe Evergrande is too "significant" for the Chinese government to let it go bankrupt. In fact, the company's activities also interfere with other industries that could be affected by the collapse of Evergrande.
According to the latest news, Evergrande has already publicly announced that it has reached an agreement with one of its creditors, allowing the company topay part of the debt on its deadline. This agreement may calm nervousness in the financial markets, although we will still have to wait for the final resolution of the situation and the possible restructuring of the company. Source
Institutional inflows in green numbers
Sales in the cryptocurrency market are used not only by retail investors, but also by institutional investors. Cryptocurrency assets held by institutional managers rose for a fifth consecutive week, a sign that market participants are still positively tuned in.
Investment flows into crypto products totaled $42 million in the week ending on Sept. 19, with Bitcoin funds seeing inflows of $15 million, according to digital asset manager CoinShares. That's only the third time in 16 weeks that BTC investment products saw positive inflows.
Other leading crypto assets also recorded positive capital inflows. Institutional investors have bought Ethereum crypto products worth $6.6 million in the past week. The institutions have also allocated $4.8 million in Solana products, despite the technical problems from the last week.
Institutional investors have become important players in the cryptocurrency market, which is a testament to the growing mainstream acceptance of digital assets. According to the largest crypto asset managers, investments in crypto assets are no longer as risky as they once were, meaning that many more institutional investors are likely to enter the market over time. Source
Popularity of Chivo wallet in El Salvador grows
El Salvador's President Nayib Bukele regularly informs the public via twitter about news and highlights related to bitcoin adoption in the country.
According to one of President Bukele's latest Twitter posts, up to 1.1 million El Salvador residents have downloaded the government-created Chivo bitcoin wallet in the first 14 days, representing about 17% of the total population.
Still, every citizen who downloads a Chivo wallet will receive an entry bonus worth $30.
Remittances in El Salvador are received by over 70 percent of the population. The government-established wallet is expected to save residents up to $400 million a year through the Bitcoin network. More than $6 billion has arrived in the country in remittancies in the last year, representing up to 25% of the country's total GDP. Nayib Bukele is therefore convinced that bitcoin will help Salvadorans avoid charges related to the transfer of money to the country through third-party services.
However, it is necessary to wait several months to years as the real economic impact of the experiment will appear in real practice. Source
Brazilian bank and cryptocurrencies
One of Brazil's most popular banks, BTG Pactual, will enable its customers to trade digital assets directly through a new platform called Mynt. The offering will be available from the next quarter and will include the two leading cryptocurrencies – bitcoin and ethereum.
BTG Pactual will thus become the first ever Brazilian the first Brazilian bank to offer such services. Andre Portilho , the head of digital assets at the organization, confirmed the move. He also revealed that the institution intends to add more cryptocurrencies in the future.
A recent survey by Sherlock Communications revealed that one in three people in Latin America are interested in cryptocurrencies. However, most people don't invest in bitcoin or any other altcoins because they lack sufficient knowledge.
In addition, BTG Pactual's intention to implement blockchain and cryptocurrency training materials on its new platform could have a positive impact the local population.
BTG Pactual is among Brazil's five largest financial institutions and has headquarters in the country's megapolises – Rio de Janeiro and São Paulo. It is also the biggest investment bank in Latin America and the Caribbean. Source
Curiosity : Satoshi Nakamoto statue in Budapest
A bronze depiction of legendary Bitcoin creator Satoshi Nakamoto is now on display for visitors of Graphisoft Park in Budapest.
The statue of Nakamoto is created by Hungarian artists Gergely Réka and Tamás Gilly. The ceremonial unveiling of the statue took place last Thursday.
András Győrfi, the co-founder of the statue project and editor of crypto news site Kripto Akademia, is behind the whole project of honoring the anonymous founder of bitcoin. "Whoever he or she was, Bitcoin creates value, and especially the technology behind Bitcoin, blockchain, creates value," said Győrfi.
The face of Satoshi's statue covers the mirror, so if anyone looks into Satoshi's face, he sees himself. This image symbolizes that each of us plays an important role in the world of bitcoin, just like Satoshi. Source
Start investing safely in cryptocurrencies now.
Odporúčame
More articles

with Fumbi