Spot ETFs Are Delayed – Market Info
Over the past two weeks, the total market capitalisation exceeded €981 billion. The decrease in market capitalisation over a 14-day period is 7.45%. The price of Bitcoin has fallen by 8.78 % over the last 14 days to a current value of over €24,400. Bitcoin's dominance is currently around 48.4 %.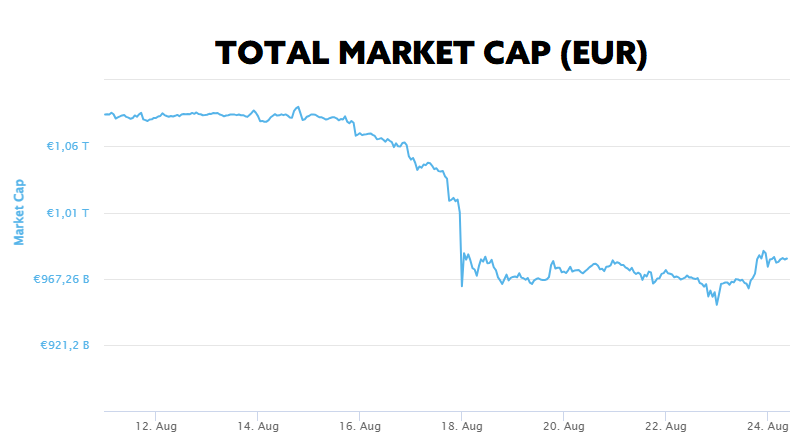 Source: Coinmarketcap
Spot ETFs Are Delayed
The U.S. Securities and Exchange Commission (SEC), which has the final say on bitcoin spot ETF fund authorization, is very likely to postpone any decisions regarding spot ETFs until early next calendar year.
Under SEC guidelines, the federal regulator has the authority to delay ETF applications for up to 240 days from the first filing in the Federal Register. The SEC was supposed to rule on Ark Invest's spot ETF by Aug. 13, but has pushed back the decision date until early next year. A similar scenario probably awaits all other applications, where the SEC will stretch its decision to the last possible date.
One of the challenges behind the SEC allowing spot BTC ETFs is the nature of this investment vehicle. Namely, ETFs linked to bitcoin futures, which the SEC authorised back in 2021, allow investors to invest in cryptoassets without having to purchase the assets directly, whereas a spot ETF is contingent on the direct purchase and custody of BTC. The SEC is concerned that spot ETFs could introduce new risks, such as market manipulation.
A number of major players from the world of finance are currently bidding for spot ETFs, including BlackRock, the world's largest institutional asset manager, Fidelity, ARK Invest, VanEck and WisdomTree.
Analysts currently agree that the chances of a spot BTC ETF being approved in the US are around 65%, thanks in part to an application from BlackRock, which is the world's largest asset manager and has good relations with regulators. The SEC has only rejected one single ETF application from BlackRock so far out of over 500, which gives many hope that we will see a spot ETF in the near future after all. Both Cathie Wood and Grayscale – the asset manager currently suing the SEC over its ETF application – have suggested that the regulator could even approve multiple applications at the same time to avoid any one company having an advantage over other companies. Source
Bitcoin in Price Correction
Bitcoin's price plunged below $26,000 in the second half of last week after a prolonged period of consolidation between the $29,000 to $30,000 price level.
At the time of the drop, the internet and social networks began to massively spread the news that aerospace technology company SpaceX had reportedly written down the value of the bitcoin it owned by a total of $373 million in 2021 and 2022, and had likely sold off all of its bitcoin reserves.
Following the release of the report by the Wall Street Journal, which cited SpaceX's financial documents, the price of bitcoin dropped by around 8% to $26,500, reaching its local low of $25,600 within a few hours. The price of bitcoin has fallen by almost 11% in the last week, with the price of BTC reaching levels last seen as recently as mid-June.
The event associated with the Evergrande Group certainly played a part in the fall in the price of BTC. China's Evergrande Group, the world's most indebted real estate development company, filed for Chapter 15 bankruptcy protection in a US court on 17 August to protect its US assets as it attempts to restructure itself.
In addition to the news about the divestment of BTC by SpaceX or the bankruptcy of Evergrande Group, other factors have a negative impact on risky assets. On Thursday, the 10-year yield on U.S. Treasuries reached its highest level since 2007, mainly because the Federal Reserve is likely to continue its hawkish monetary policy and raise the benchmark interest rate again at its next meeting. Source
Aptos Partnered With Microsoft
Aptos, the cryptocurrency powering a tier-one blockchain called the Aptos Network, has surged about 11.6% since announcing that it will use Microsoft's suite of artificial intelligence tools to accelerate adoption of the new version of the Internet, Web3, among banks and financial services companies.
The deal will allow Aptos to use Microsoft's Azure OpenAI service to explore innovations in asset tokenization, blockchain payments, as well as central bank digital currencies (CBDCs).
Aptos Labs CEO Mo Shaikh, who previously worked at Facebook and BlackRock, sees great potential in AI-powered blockchain solutions. "Artificial Intelligence and blockchain technologies are quickly converging for one important reason: they are both generational breakthroughs that profoundly impact the evolution of the internet and shape society." said Shaikh.
One of the new tools, Aptos Assistant – a chatbot powered by ChatGPT – will focus on helping users navigate from Web2 to Web3. Microsoft will also enhance the security of the Aptos network by allowing Aptos Labs to run validation nodes in Azure, Microsoft's cloud service. Source
Donald Trump Owns a Significant Amount of Cryptocurrencies
Former President and current candidate for President of the United States Donald Trump owns a large amount of cryptocurrencies, according to published financial information.
According to official documents obtained by the Washington-based nonprofit Citizens for Responsibility and Ethics, the real estate mogul and Republican presidential candidate for the upcoming 2024 election held more than $2.8 million in the cryptocurrency Ethereum in his cryptocurrency wallet as of early August.
According to a financial filing made in April this year, Trump admitted to holding up to $500,000 in digital assets in April, which means the current amount of assets held is almost 6 times higher than it was in April.
At the same time, the CoinTelegraph website found that a series of non-exchangeable digital assets (NFTs) called Trump NFTs earned Trump as much as 4.87 million in royalties. In total, according to CoinTelegraph, Trump has earned up to $7.6 million from his cryptocurrency-related activities.
Trump has been skeptical of cryptocurrencies during his presidency, saying he is "not a fan." Now, however, it appears that the skeptic is turning into a fan who owns several million dollars worth of cryptocurrencies and who has released his own NFT collection. Source
Oman Opens Cryptocurrency Mining Centre
The Sultanate of Oman, an Arab state in Southwest Asia, has opened a new cryptocurrency mining center in its country. This is the opening of the second centre dedicated to cryptocurrency mining in the last 10 months.
According to local news portals, a new data hosting and cryptocurrency mining centre called Oman Daily Observer has been opened in Salalah Free Zone, which is a special economic zone in the country with low corporate taxes. The centre will reportedly be operated by local company Exahertz in partnership with Dubai-based blockchain company Moonwalk Systems.
The construction of the center reportedly cost 135 million Omani riyals (approximately $350 million) and will use the latest hardware from Bitmain Technologies for mining. The data center plans to run up to 15,000 mining machines by October 2023. Currently, the center is operating in pilot mode with roughly 2,000 mining machines.
The data mining centre has been created as part of a plan to accelerate the digitalisation of the Omani economy, which is mainly dependent on oil exports. The first extraction centre opened back in November 2022 and cost 150 million Omani riyals ($389 million) to build. Source
Mysterious Entity Accumulates BTC in Bulk
The entire crypto community was surprised this week by information about a mysterious bitcoin wallet that has been accumulating BTC in bulk over the past 3 months, becoming the third largest holder of BTC in the world in just three months.
According to data from crypto platform BitInfoCharts, the address bc1ql49ydapnjafl5t2cp9zqpjwe6pdgmxy98859v2 was first activated on May 8. Over the next 3.5 months, the address accumulated a staggering 118,000 BTC, worth $3.08 billion at current prices.
The rapid and significant accumulation of BTC by an unknown entity immediately sparked various speculations about who it might actually be. Some users think that it is one of the crypto exchanges moving funds to a new address. However, a wild theory is increasingly popping up on the internet that BlackRock is behind the address – a company that is looking to launch a spot BTC ETF in the US and is preparing for the coming bull market.
However, neither theory is based on any demonstrable evidence, so for now we can only speculate as to who it really is. Source
INVEST WITH FUMBI
Odporúčame
More articles

with Fumbi