We have launched Fumbi Custom
Do you want to invest only in your preferred cryptocurrency? Now it's possible with Fumbi. We are introducing the new Fumbi Custom product, which is available to all users who want to invest into cryptocurrencies of their choice. The product brings freedom of choice while keeping investing simple, safe, and convenient.
Why Fumbi Custom?
At the end of last year, we collected feedback on user satisfaction with our products and services. The option of choice of specific cryptocurrencies for investing was one of the most frequent requests from our customers in the questionnaire. Fumbi Custom is, therefore, suitable for anyone who wants to own cryptocurrencies of their choice for a long period of time.
From the beginning of this month, a beta version is available and you can easily and conveniently invest in cryptocurrencies Bitcoin and Ethereum. We will later expand the Fumbi Custom with other cryptocurrencies. If you have a suggestion of which cryptocurrency should be added next, you can complete the following questionnaire.
Benefits of Fumbi Custom:
Own choice of cryptocurrencies – Bitcoin and Ethereum.
The safest storage of cryptocurrencies on the Fireblocks.
Investment in individual cryptocurrencies starting from 50 €.
Regular audit via SGS Slovakia.
How To Invest In Fumbi Custom
Investing in the Fumbi Custom is easy. You can do this via any button +Deposit.
When you are on the deposit, just click on "Show more", then you choose the product Fumbi Custom. Here you pick one of cryptocurrency (Bitcoin or Ethereum) of your choice and the amount you want to deposit. After confirmation, you'll see the payment details.
Note: For better identification of deposits, we have created separate bank accounts for each cryptocurrency. Therefore, it is necessary to check the account number to which you are crediting the deposit.
Do you have investments in multiple Fumbi products?
If you have invested in multiple Fumbi products, it is possible to open each product separately and see its detailed information. You can access the detailed information via the main Overview page and the Products section. There you just need to select a product and click Show more.
You can make a deposit also after opening the details of individual products.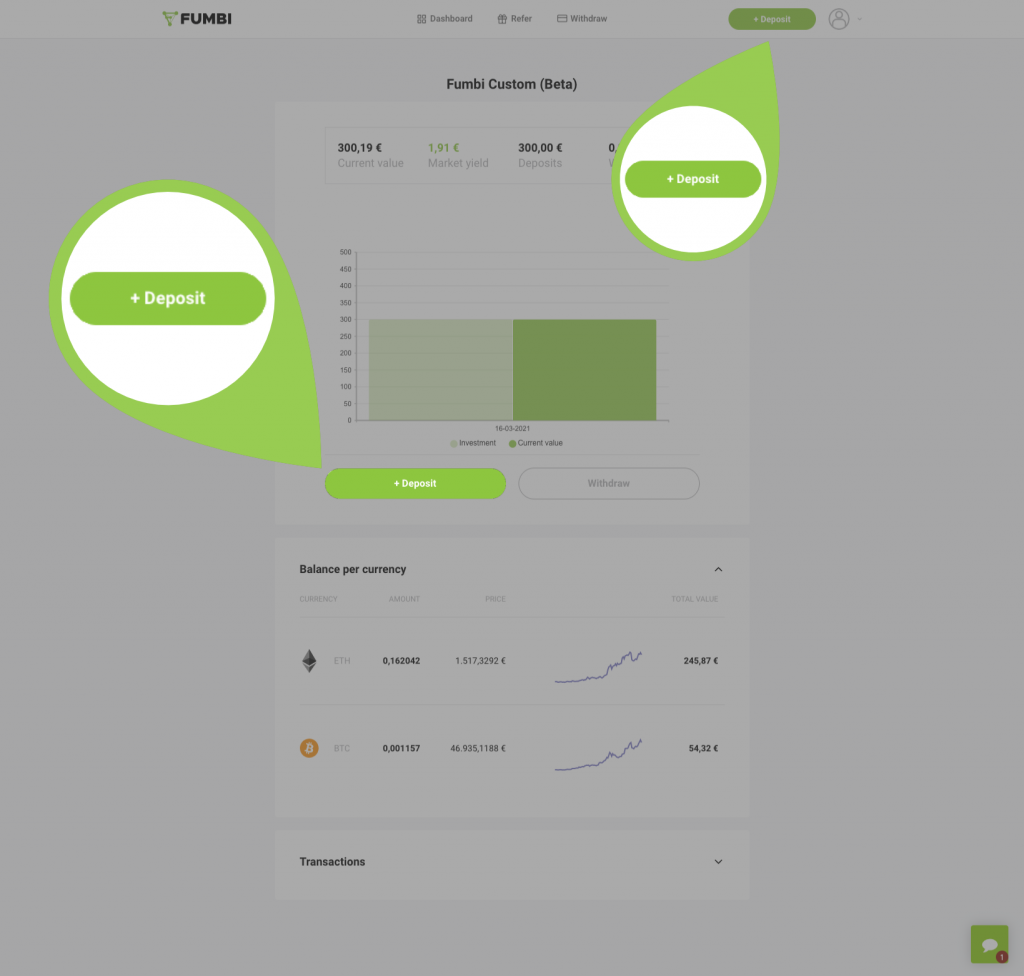 Is there anything to improve? Let us know.
Fumbi Custom is currently available in the beta version. If you notice any shortcomings or have ideas for improvement, let us know at support.en@fumbi.network.
Odporúčame
More articles

with Fumbi