Whole Foods now accept cryptocurrency via the Spedn App – Crypto weekly update
Every week Fumbi.network brings you a recap of the most valuable crypto-news from fields of Technology, Legal & Politics, Business, and Media. So stay tuned and buckle up for some good reading.
Bitcoin has turned the misery of 2018 into the happiness that is 2019. With the recent price climbing to well over $8,000. Bitcoin continues to impress in 2019, and the recent numbers go to show that positive growth in 2019 could be the catalyst for more growth in 2019. Bitcoin has surged a massive 140% in 2019 alone, following a dismal 2018 which saw the price drop approximately 87% from the $20,000 all-time high. In the space of 5 months, BTC has managed to climb back into the green for new investors, who would have seen their early 2019 buys in big profit. www.chepicap.com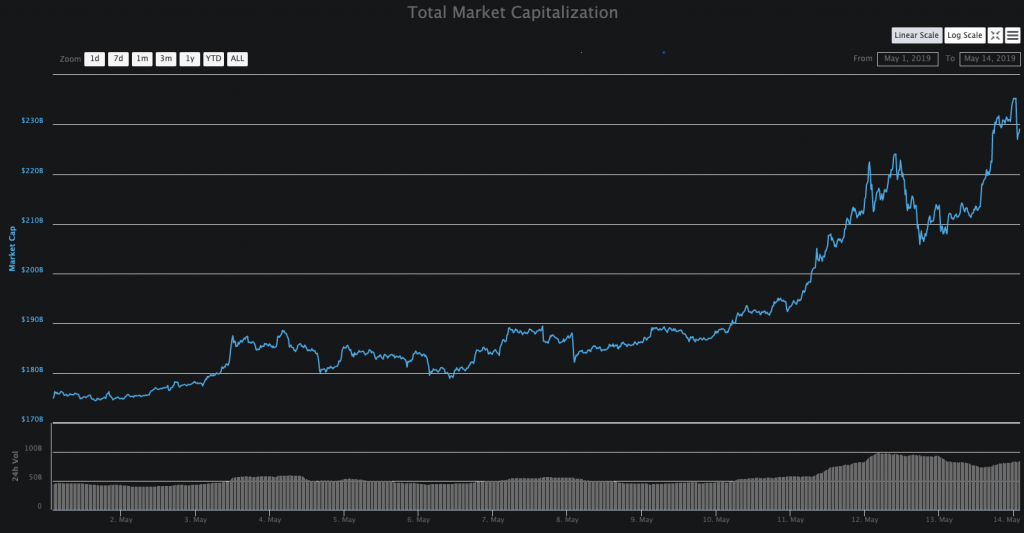 I. Technology
HTC's New $300 Smartphone 'Exodus 1s' Can Run a Full Bitcoin Node. HTC plans to launch a second generation of the Exodus 1 blockchain smartphone by 2019, according to the company's Chief Decentralized Officer Phil Chen. The upcoming Exodus 1s will provide more support for decentralized browsing, messaging, and social media apps (dapps). But that's not all. The 2nd gen blockchain smartphone will also be able to run a full bitcoin node HTC said Saturday. So with the $300 smartphone due Q4 2019 you'll be able to contain the entire bitcoin blockchain on your smartphone and verify transactions. www.ccn.com
Schnorr Signatures Are Coming to Bitcoin. On Wednesday, May 15, the Bitcoin Cash (BCH) network will be upgraded to incorporate the highly anticipated Schnorr signature algorithm, a digital signature scheme widely known for its simplicity. Next week, the Bitcoin Cash blockchain will be upgraded by adding two specific elements to the network's underlying mechanics — Schnorr signatures and Segwit recovery exemption. Schnorr signatures will be a distinctive upgrade feature that gives the BCH chain a leading edge due to the signature schemes' ability to promote privacy and scaling. The Schnorr signature algorithm was invented by the renowned cryptographer Claus Schnorr and cryptocurrency developers have been eager to implement Schnorr signatures for quite some time. Currently, BCH uses what's called the Elliptic Curve Digital Signature Algorithm or ECDSA for transaction signatures. After May 15, however, the chain will offer both legacy style ECDSA transaction signatures and the ability to use basic Schnorr signatures as well. Bitcoin cash transactions have a few elements that utilize basic cryptographic procedures. In a BCH transaction, a cryptographic signature is used to validate the owner of the funds. Alongside this, the cryptographic method ECDSA is employed to encrypt data so only a specific recipient can decrypt the information. The combination of these factors proves a BCH user's ownership which constitutes the owner's right to spend the bitcoin cash. Signatures also have to be provided for every BCH input within the transaction itself. ECDSA properties give two parties the ability to communicate BCH public and private keys securely. Schnorr signatures added to the Bitcoin Cash chain will offer the same properties as ECDSA, but will be far more efficient and powerful. news.bitcoin.com
Microsoft Is Building Decentralized Identity Solutions on Bitcoin's Blockchain. Microsoft is currently working on an open-source project which involves developing decentralized infrastructure on the Bitcoin (BTC) blockchain. Microsoft's latest project, called Ion, will focus on developing protocols which allow different networks to communicate with each other. For instance, if you use your LinkedIn credentials to log into an Uber Conference meeting, then a communications protocol at the software layer would send your profile data (from LinkedIn) to servers used by Uber Conference's program. The profile data received would then be used to verify users' credentials. Microsoft's Ion platform is being developed to handle a similar verification process, however it will process the data between separate networks by using decentralized identifiers. Ion network users will be able verify, or prove, that they own their data – as they will also own the keys associated with their data. In statements shared with Coindesk, Christopher Allen, an early crypto adopter and co-founder of the World Wide Web Consortium (W3C) Working Group for Decentralized Identity (DID) Solutions, said: "A lot of enterprise infrastructures use Microsoft products. So if they integrate this into any of their infrastructure products, they'll have access to DID". www.cryptoglobe.com
II. Legal & Politics
The political tension in Venezuela has affected local cryptocurrency adoption. While there are roadblocks, many crypto-advocating projects continue to thrive in the country. News.Bitcoin.com takes a deep look at the current situation in Venezuela, crypto adoption efforts and how the recent political crisis affects them. Cryptocurrency adoption in Venezuela has been affected by the recent political unrest following mass protests organized by Juan Guaido, president of the opposition-run National Assembly, calling for the military to help him end Nicolas Maduro's reign. With the support of more than 50 countries including the U.S., Guaido declared himself acting president of Venezuela while Maduro insists he has been re-elected to a second six-year term. The incumbent still has the support of a number of countries including Russia and China. During the years-long freefall of their country's economy, many Venezuelans have turned to cryptocurrencies. Venezuela's annual inflation rate reached 1,300,000% in the 12 months to November last year, according to the opposition-controlled National Assembly. Widespread food and medical supply shortages are now the norm, with most Venezuelans struggling to afford basic items including food and toiletries. Although Venezuela is prime for crypto adoption, there are still many challenges in the way. Seemingly a natural fit for such a failing economy, cryptocurrency adoption is progressing in Venezuela despite some roadblocks. Matt Aaron, leader of Bitcoin.com's efforts in the country, explained how the recent political situation and ongoing power outages have affected local merchant crypto adoption. Citing the political unrest, the frequent and lengthy blackouts, and the skyrocketing prices of goods and services due to shortages of basic necessities, Aaron admitted that "It's really affected the crypto adoption." However, he emphasized: "I think it's still strong, it's just that in the short term, they're in survival mode in certain parts. But the willingness to learn about crypto has not gone down." news.bitcoin.com
III. Media
Whole Foods and Major Retailers Now Accept Cryptocurrency via the Spedn App. On May 13, cryptocurrency enthusiasts were pleased to hear that major retailers including Whole Foods, Lowes, Petco, Regal Cinemas, and Gamestop will accept payments in crypto. The payments will be processed by Flexa using its custodial wallet called 'Spedn' which gives people the ability to spend with bitcoin core, ethereum, bitcoin cash, and GUSD. Digital currencies got a mainstream push today from the startup Flexa and its new wallet called Spedn. Users will be able to spend a variety of cryptocurrencies including BCH, BTC, GUSD, and ETH at a multitude of well-known establishments. This includes Lowes, Gamestop, Whole Foods, Petco, Barnes & Noble, Regal Cinemas, Baskin Robbins, Crate and Barrel, and Nordstrom. According to the startup, the application works due to a partnership between Flexa and its retail partners and the digital currency firm Gemini. The platform basically allows the user to load up one of the wallets with any coin and purchase items with one of the partner shops. Whole Foods and Major Retailers Now Accept Cryptocurrency via the Spedn App Flexa payments are made possible due to a partnership with the New York-based exchange Gemini. The Flexa network was a project co-founded by Tyler Spalding, Trevor Filter, Zachary Kilgore, and Daniel McCabe. Flexa uses its own cryptocurrency called Flexacoin in the background, the company has explained. Essentially Flexacoin is used as collateral to secure payments until the transaction is approved on one of the four public blockchains. The team says they built Flexa because they believe existing payment networks are broken and rather than team up with a debit card provider they decided to work with a large network of merchants. "Over the past year, we've built new connections with tens of thousands of merchant point-of-sale terminals nationwide, to bypass the existing payments infrastructure and push cryptocurrency-based payment authorizations directly to merchants on your behalf," Flexa's announcement noted. news.bitcoin.com
Celsius Wallet App Offers Interest and Loans for Your Cryptocurrency. With crypto markets rising, hodling seems to be a sound investment strategy once again. If you have coins you want to keep, you can earn some interest on your digital assets thanks to platforms such as Celsius Network. Its mobile wallet allows you to also use the cryptocurrency as collateral in case you need to borrow fiat cash instead of selling crypto. The Celsius Network wallet is available on Google Play and the App Store. You can deposit a number of major cryptocurrencies including bitcoin cash (BCH). The application tracks the top 10 digital coins in your portfolio and provides access to crypto-related news and statistics. Users can earn interest on their cryptocurrency holdings, which is paid out weekly. BCH deposits will bring you 3% annually, according to current rates. These are subject to change based on demand and can reach over 7% on some stablecoins. Celsius Network, whose slogan is "Unbank Yourself," also offers you to borrow "dollars while they still exist," using your crypto funds as collateral. At the moment, fiat loans in U.S. currency come at a 4.95% APR. The app has a feature that allows you to calculate the loan you can receive against your digital assets. The amount is estimated based on your crypto portfolio and how long you've been part of the Celsius community. news.bitcoin.com
eBay to Accept Crypto? eBay is readying support for "virtual currencies" and "digital collectables" if new promotional adverts are to be believed. Spotted at the Consensus conference in New York, the banners suggest eBay is about to enter the cryptocurrency arena in what would be a major mainstream breakthrough. The bidding marketplace may also be eying the digital collectables market, made famous by Cryptokitties in late 2017. The potential of digital collectables was made real by Ethereum, for the first time offering a platform for truly unique, one-of-a-kind digital assets. As a hub for collectable items and auctions, eBay is a natural mainstream platform for the future of digital collectables. While there is no official statement on its crypto plans, the marketplace has been widely linked to bitcoin payment gateway UTRUST. UTRUST hired former eBay and PayPal executive Sanja Kon as VP of Global Partnerships in 2018. So a partnership between UTRUST and eBay would be a logical conclusion. In a statement at the time, UTRUST said: "Sanja's experience at PayPal and eBay makes her the perfect person to help UTRUST drive merchant adoption of our crypto-payments platform… We anticipate that she will be a key driver in elevating UTRUST's brand in the crypto-commerce space and ultimately the future of online payments industry." The e-commerce marketplace has had an eye on crypto payments since the tail end of 2017. As CCN reported at the time, senior vice president of eBay Americas Scott Cutler said the company was "seriously considering" adopting bitcoin payments. "This is a trend that everybody is talking about, but sadly, at eBay, we don't currently accept bitcoin as a form of payment," Cutler said. "We're seriously considering it as these cryptocurrencies become more of a mainstream" payment instrument, but we're not quite there yet." The e-commerce giant's surprising reveal isn't the only major news from Consensus. New York crypto payments startup Flexa hinted at partnerships with Starbucks, Nike, and Bed, Bath, & Beyond at the conference. The startup is launching its app at Monday's Consensus event. www.ccn.com
IV. Business
Bitcoin.com Celebrates 4 Million Wallets Created. On May 5th, we're celebrating a milestone as the Bitcoin.com Wallet has seen a whopping 4 million wallets created since the light client launched. The wallet allows anyone in the world to participate in the cryptoconomy by offering a secure, noncustodial storage solution for bitcoin cash (BCH) and bitcoin core (BTC). The Bitcoin.com Wallet launched back in August 2017 and ever since then the wallet has seen significant development and gathered lots of attention. There have been 4 million wallets created so far and we're thrilled to celebrate this watershed moment with the crypto community. There's a bunch of reasons why the Bitcoin.com Wallet is so popular and one of them is accessibility, as the light client is available for Mac, Windows, Linux, Apple iOS, and Android operating systems. Additionally, the wallet is not only great for veterans but is also perfect for beginners who are just learning the basics of crypto. The user interface (UI) is very easy to use, which makes storing, sending, and receiving bitcoins a breeze. The wallet allows users to store bitcoin cash (BCH) and bitcoin core (BTC) in a noncustodial fashion. Bitcoin.com Wallet users also have the ability to purchase both cryptocurrencies within the wallet's UI. With this specific buying service, users don't have to deal with depositing money on cryptocurrency exchanges. These features alone barely scrape the surface when it comes to our open source wallet as there are many more attributes. For instance, our wallet is fully compatible with the BIP70 payment system and the light client can be used to pay Bitpay invoices with ease. There's also an abundance of resources like direct access to news.Bitcoin.com articles, price charts, helpful tools, a BCH faucet, and Bitcoin Cash Games. "The Bitcoin.com team is proud to have helped bring more economic freedom to individuals across the world," explained Bitcoin.com's CEO Roger Ver after crossing the wallet creation milestone. Ver added: "We look forward to helping create the next 40 million wallets, followed by 400 million." news.bitcoin.com
Bakkt to Roll Out First Bitcoin Futures Testing in July 2019. Bakkt plans to roll out testing for bitcoin futures trading in early July 2019, Bakkt CEO Kelly Loeffler announced in a Medium post on May 13. First announced in August 2018, institutional crypto exchange Bakkt now announced that it will soon introduce bitcoin futures trading testing on a federally regulated futures exchange in collaboration with its parent company Intercontinental Exchange (ICE). Specifically, Bakkt is working with both ICE Futures U.S. exchange and ICE Clear U.S. clearinghouse to prepare the first testing of bitcoin futures trading and custody. Loeffler wrote: "In conjunction with our exchange and clearing partners at ICE, we'll be working with our customers over the next several weeks to prepare for user acceptance testing (UAT) for futures and custody, which we expect to start in July." Along with the announcement, the company also reported that it was working closely with the United States Commodity Futures Trading Commission in order to be compliant with federal regulations, as well as to meet major requirements in terms of investors protection. As such, the ICE Futures U.S. filed with the CFTC through to get a regulatory approval for offering two major types of bitcoin futures contracts such as daily settlement bitcoin futures and monthly bitcoin futures. In late April, Bakkt acquired crypto custodian service Digital Asset Custody Company (DACC), also announcing that the firm filed with the New York Department of Financial Services to operate as a trust company to serve as a Qualified Custodian for digital assets. Most recently, Reuters published an article alleging that the ICE took advantage of the "crypto winter" of 2018 purchase crypto assets at a discount for its Bakkt platform. cointelegraph.com
XRP holders have waited a long time for it, but these two days Ripple's token is finally making moves again, surging more than 30% in the last 2 days. What's moving the price of XRP? 2019, up to this week, wasn't really the year of XRP. With Bitcoin more than doubling in price, Ripple's cryptocurrency kept losing in value against BTC. But on Monday, XRP finally started making gains again, and on Tuesday, it's the best performer in the top 100, gaining more than 20% and outperforming Bitcoin by 9%. What's behind this latest XRP move?
Fidelity coming?
The biggest news in May for Bitcoin definitely was the plan of Fidelity to start offering XRP trading for institutional investors in the future. Fidelity is gearing up to launch Bitcoin buying, selling and custody in the coming weeks, and will start with BTC only. But according to Anthony Pompliano, co-founder of Morgan Creek Digital, XRP and Ethereum are next in line for Fidelity. This means that XRP buying will be made a lot easier and safer for the rich and wealthy. Fidelity is a $7 trillion asset manager, and recently published a research in which was reported that almost half of their clients are interested in investing in cryptocurrencies.
Coinbase
Next to Fidelity exploring XRP trading, Coinbase has enabled buying and selling of XRP for New York residents. Ripple's token was already available for trading for other users, but with New Yorkers now also able to buy XRP on Coinbase, Wall Street and other financial industry players based in New York have an easy way to start investing.
XRP ETN
On Monday, the second largest German stock exchange Börse Stuttgart announced the addition of a XRP ETN, next to a Litecoin ETN, exchange-traded notes. Both will be following the price of the euro and the Swedish Crown. ETNs are unsecured debt security that tracks an underlying index of securities and trade on a major exchange. ETNs are similar to bonds but they do not pay interest payments. Instead, the prices of ETNs fluctuate, as Investopedia explains. In an announcement, director of Blie Chips & Funds Trading at Börse Stuttgart, Jürgen Dietrich, said: "There is a lot of interest in cryptocurrencies. These ETNs will allow investors in Germany to track future price developments of the two cryptocurrencies Litecoin and Ripple (XRP) through exchange-traded securities for the first time." www.chepicap.com
Facebook Suddenly Relaxes Crypto Ad Terms Before Stablecoin Launch. The world's largest social media platform said in a blog post on Wednesday that it's been listening to feedback since it shut down crypto advertising. That led it to assess the policy's effectiveness, and voila, it had an epiphany. The timing just happens to coincide with the upcoming launch of Facebook's own stable coin. In the post, the company says: "While we will still require people to apply to run ads promoting cryptocurrency, starting today, we will narrow this policy to no longer require pre-approval for ads related to blockchain technology, industry news, education or events related to cryptocurrency." Last June, Facebook began requiring those wishing to advertise crypto products on its platform to first get written approval. An ad that directs to a landing page featuring a restricted product, such as a cryptocurrency exchange, will still require prior approval. Facebook says: "Or if the landing page includes a prohibited product, like an initial coin offering (ICO), we will reject it." Referring to something it calls its Prohibited Financial Products and Services policy, the post states that Facebook will no longer allow ads promoting contracts for difference (CFDs), complex financial products that are often associated with predatory behavior. ICOs fall into this category, and ads for them will continue to be banned. www.ccn.com
More info about Fumbi.network
Odporúčame
More articles

with Fumbi