We added additional cryptocurrencies Cardano and Polkadot to Fumbi Custom
In Fumbi Custom, we have expanded the selection by additional cryptocurrencies. In addition to the cryptocurrencies Bitcoin and Ethereum available so far, we are expanding portfolio with Cardano and Polkadot.
The Fumbi Custom is available to all user who want to invest into cryptocurrencies of their choice. The product brings freedom of choice while keeping investing simple, safe and convenient.
What is Cardano?
Currently among the TOP 5 cryptocurrencies on the market. Cardano can be considered the first Proof-of-Stake "reviewed" blockchain in the world. It is generally considered as third-generation cryptocurrency to addressing the problems of first- and second-generation cryptocurrencies. Furthermore, Cardano is a platform focused on development of smart contracts, while offering high scalability and security ensured by a multi-layer network architecture.
Cardano has its own native ADA token, which is designed to ensure that ADA token holders have the right to participate in the operation of the network. For this reason, those who own the token have the right to vote on any proposed software changes. Currently, Cardano is the second most developer-active cryptocurrency with a total of more than 37,327 developer changes to the source code (so-called commits).
What is Polkadot?
Cryptocurrency, whose popularity is growing every day, mainly due to its huge innovative potential and the possibility to become a real and respected competitor of Ethereum. Polkadot is a network protocol that allows the transfer of any data (not just tokens) through blockchains.
It is a new generation blockchain that enables cross-communication (interoperability) by connecting multiple blockchains into one network. The basis of the whole ecosystem is the optimization of a solution in which several blockchains will be able to work on one common basis, while each of these blockchains will be able to focus on solving a specific problem for which it will be optimized.
Benefits of Fumbi Custom:
Own choice of cryptocurrencies – Bitcoin, Ethereum, Cardano and Polkadot
The safest storage of cryptocurrencies on the Ledger Vault.
Investment in individual cryptocurrencies starting from 50 €.
Regular audit by SGS Slovakia.
How To Invest In Fumbi Custom
Investing in the Fumbi Custom is easy. You can do this via any button +Deposit.
When you are on the deposit, just click on "Show more", then you choose the product Fumbi Custom. Here you pick one of cryptocurrency of your choice and the amount you want to deposit. After confirmation, you'll see the payment details.
Note: For better identification of deposits, we have created separate bank accounts for each cryptocurrency. Therefore, it is necessary to check the account number to which you are crediting the deposit.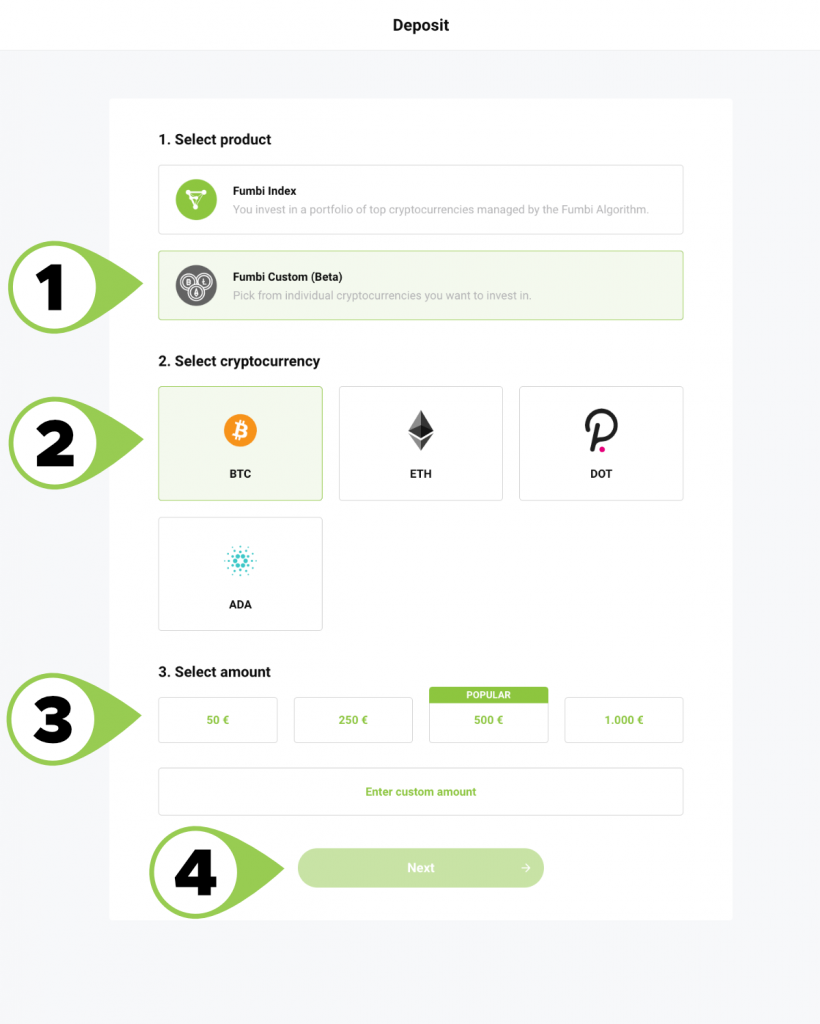 Do you have investments in multiple Fumbi products?
If you have invested in multiple Fumbi products, it is possible to open each product separately and see its detailed information. You can access the detailed information via the main Overview page and the Products section. There you just need to select a product and click Show more.
You can make a deposit also after opening the details of individual products.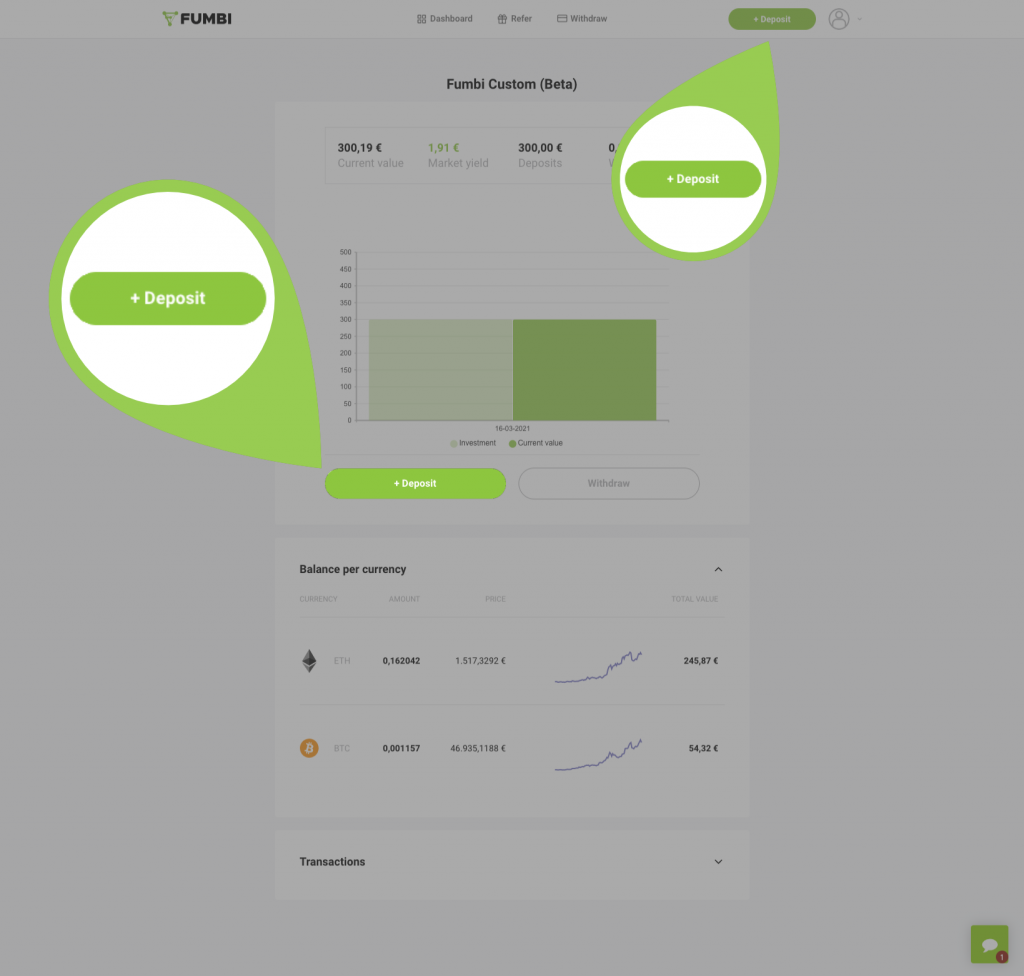 Odporúčame
More articles

with Fumbi